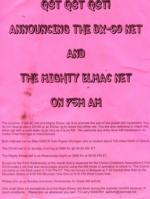 UPDATE: Steve W8TOW from near Lansing MI and a long-time friend of N8ECRs has taken over responsibility for the "N8ECR Memorial DX-60 Net" on 3880 kHz, Sunday mornings. All rigs are welcome, but this net has a long tradition of encouraging the use of low-power AM transmitters like the DX-60.
As does the Wednesday night "Mighty Elmac Net" that Mike started over 10 years ago. Deterioriating band conditions after sunset at the present point in the sunspot cycle have made it difficult to conduct this net but it WILL go on! A new net control, Rex WA6GYC from Troy MI had good success in recent weeks and hopefully will continue in this role. Wednesday is Elmac Night! Join the pre-net group anytime after about 2300Z on 3880 kHz.
---
My buddy Larry WA9VRH worked in the printing industry in the Peoria area for years and made up this poster and printed off a bunch that were distributed at various hamfests in the area.
While Mike is no longer at the mic of the "Big Rig" in Pigeon, the nets he devoted so many hours to continue on with new net control stations. Despite adverse propagation! The Mighty Elmac Net "pre-net" begins as early as 5PM local time so be sure to tune in early and stay late, and spread the word!