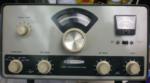 Slightly insane about singlebanders...
Posted By: Robert Nickels (ranickels)
Put yourself in 1963...
A stamp was a nickel, bread was 22 cents a loaf, and you could buy 3 gallons of gas for a buck. The average wage in the US was $84 a week. If you were a ham, you might have been able to build and trade your way up to a really nice AM/CW station - maybe a Valiant or DX-100 transmitter with an NC-300 or HQ-170 receiver - a huge improvement over the S-38 you started your Novice career with a few years ago.
But Single Sideband - SSB - was all the rage! Every new issue of QST produced ads for yet another new sideband rig. Of course you had to flip past the Collins and Hallicrafters pages, but that Swan 240 was interesting, and it covered the three bands you operated most anyhow. National's NCX-3 was a beauty and even Leo was making a tribander - the big gold box Galaxy 300. But those rigs all were in the $300 plus price range - more than three months pay and enough to buy a good used car. You're chomping at the bit to get on sideband, but how?
And then the Heathkit catalog came - announcing not just one but three new SSB transceivers for each of the most popular bands. At $119 this was a real possibility, especially since instead of racking up another $40 on the Heathkit easy-payment plan you could build your own power supply using the transformer you scrounged out of Aunt Millies old TV set. SSB on a budget was clearly a big reason for the success of the Singlebanders, along with the fun of building your own radio from a kit, and having one that could go mobile as well.
But were they any good? The specs said so - a 1uV receiver with 2.7 kHz crystal filter selectivity...not contest grade maybe but certainly easy on the ears (these rigs still sound GOOD!) On the transmit side, a full 200 watt PEP input like the more expensive rigs, and no compromises with ALC and even VOX for those who wanted it. All told, 14 tubes did the job including a pair of 6GE5 Compactron sweep tubes in the final. Since most all parts mounted on a large PC board (probably the first one many kit builders had ever seen) there were fewer changes for wiring errors. Heathkit used commonly availble tubes for the most part, like the 6AU6 which was produced in high volume for radio/tv use and having single-function tubes helped spread the circuitry out on the PC board. Like all Heathkits, the detailed assembly manual made it virtually error-proof and no fancy test equipment was needed to get a Singlebander on the air. It was as close to a plug-and-play rig as 1963 technology could provide.
Heath's engineers did make some goofy choices in the original "Hot Water" rigs though. For example, the mic connector gain control was on the rear panel, not the most convenient for anyone, yet the VOX gain control was on the front panel. These were among the changes made in the "A" series, which also added USB/LSB selection (for some reason?) and spiffier-looking styling that would become very well known in the enormously popular HW-100/101 transceiver that came out in 1968. Like the Singlebanders, it was a very budget-friendly radio
Although Heathkit soon entered the five-band transceiver and "separates" market with the SB series, the original Singlebanders were built from 1963 to 1966, and the restyled and improved "A" models were offered until 1974. That's quite a run for a low-end no-frills radio, but the Singlebanders filled a niche that went unchallenged by other manufacturers and also morphed into the VFO-less HW-18 series for fixed frequency and 160 meter work. For many hams, the Singlebander was a perfect choice for fixed, mobile, or second station use at an affordable price.
When going through my collection of assorted HW-series Singlebanders recently I found most of them came up working with only minor problems. Tubes age, resistors shift value, pots and switches get dirty - all simple fixes. Singlebanders only have one electrolytic that might need replacment and not having a bandswitch really simplifies things as does PC board construction if a part needs to be replaced. I found that the driver grid and plate coils which came "factor pre-tuned" weren't, after 50 years. Carefully drilling a hole in the top of the can allows these coils to be tweaked, which produced a significant improvement in power output in a couple of radios. As always, it's difficult to find fault with the comprehensive Heathkit documentation. One of the attractions always was, "if you built a Heathkit you'll always be able to fix it".
One problem I found to be very odd: On one HW-12, nearly all of the 9-pin tube sockets had developed intermittent contacts - the socket tension was so low that tubes would literally fall out if you turned the radio upside-down! All the 7-pin tube sockets were normal; fortunately I had a parts unit that I was able to use, but I've never run into bad sockets like this before and can't figure out what caused such a failure in a radio that otherwise looked almost like new.
While it may be said that the Heathkit Singlebanders did only one thing - they did it very well!