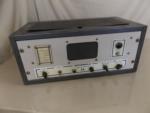 another obscure Elmac returns to the air
Posted By: Robert Nickels (ranickels)
Bob Heil's favorite radio is the Moseley CM-1 which the developer, John Clemmons, told Carl Moseley stood for Clemens Manufacturing number 1. "No", Mr. Moseley said, "That stands for Carl Moseley number 1!"
As that may be, there's yet another CM-1 receiver and it was made by the Multi Products Company of Oak Park, Michigan.
As wikipedia states: "CONELRAD (Control of Electromagnetic Radiation) was a method of emergency broadcasting to the public of the United States in the event of enemy attack during the Cold War. It was intended to allow continuous broadcast of civil defense information to the public using radio stations, while rapidly switching the transmitter stations to make the broadcasts unsuitable for Soviet bombers that might attempt to home in on the signals (as was done during World War II, when German radio stations, based in or near cities, were used as beacons by pilots of bombers".
The upshot was, to control electromagnetic radiation (aka "RF") designed AM broadcast stations were to remain on the air on either 640 or 1240 kc and would rotate transmission in a round-robin fashion so as to confuse any attempt at direction finding. Every broadcast station was assigned a primary "key" station to monitor and when commanded to do so by an alert notification, they would leave the air. This required each broadcast station to monitor their primary key station at all times, starting Dec. 10, 1951. The same requirement was extended applied to hams, effective Jan. 1, 1957. Throughout the 50's the need for CONELRAD monitoring resulted in a handful of dedicated receivers coming onto the market, from manufacturers including Miratel, Gonset, Kaar, Multi Products, and Motorola. Except the Motorola DS-9660 wasn't made by Motorola - it was in fact a private labelled version of the Multi Products CM-1.
When one showed up on eBay the light bulb came on. I've played with tunable mobile converters that were popular for HF mobiler in the 50's, but it was a hassle to set up an old car radio, power supply etc. Since the CONELRAD receiver is a fix-tuned superhet receiver with a built-in power supply and speaker it looked like the ideal IF for a mobile converter, and I happened to have a Morrow 5BR1 on hand. As things sometimes happen, a check of eBay showed a seller offering a copy of the original manual the same day I won the receiver auction.
It took nearly nothing to get going, the filter caps were fine but the rectifier tube had failed, so a couple of diodes fixed that. This receiver came from Ohio and I'd guess it came from an AM station there as the crystal channel was set to 760, which would have been WJR, Detroit. Two other crystals provide reception on 640 and 1240, but the last position switches in a variable tuning circuit, which I retuned to the output of the Morrow converter. The manual calls out sensitivity of 5 uV for "4 to 1 s/n ratio" and the converter has a lot of gain (too much, actually). Selectivity is given as 3kc at the 6dB point and 15 kc at 40dB down, which is quite good, and means it should be able to sort out signals within the AM window.
CONELRAD was probably the best system that could be devised in the late 40s but it was pretty weak. The complete alert mechanism consisted of a sequence of actions: first, the key station would drop it's carrier for five seconds, return to the air for five seconds, again shut down for five seconds,and then return to the air and transmit 1 kHz tone for 15 seconds. Decoding the full sequence would have taken equipment so expensive no one could have afforded it, so some monitors just sounded an alert whenever the key station's carrier was absent for a few seconds. This resulted in false alams when stations would switch antenna patterns or otherwise momentarily leave the air. The Multi Products receiver did both - detected the loss of carrier and the 1,000 cycle tone, and only then would the alarm be activated. Three of the 8 tubes are used for alarm detection circuitry including a 2D21 thyratron.
I didn't bother making these circuits work because what's the point? And in fact I repurposed the rear panel terminal strips to provide power to the converter and for muting. Morrow suggests very strongly that and RF gain control be added to the car radio their converter is used with since the AGC loop obviously does not include the front-end (converter) and that's something I may yet do. I was able to give it it's first on-air test on the Mighty Elmac Net on 8/12/20 and despite poor propagation it worked well.
Another Elmac has returned to the air!