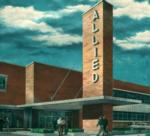 Posted By: Robert Nickels (ranickels)
I find the show-biz association of the founder of Allied Radio, Simon Wexler, to be rather fascinating. What started out as a supplier of crystal set parts led to a family that became a major force in the entertainment industry and in Chicago business...including many recognizable names:
"Allied Radio (now known as Allied Electronics) is a company with a long history. On August 6, 1928, the company was started by Chicago industrialist Simon "Sy" Wexler when he was only 31 years old. Simon Wexler associated with noteworthy entrepreneurs. Simon, Jay Pritzker (founder of the Hyatt Hotel chain), and industrialist Henry Crown rode the train weekly from Chicago to New York when Henry Crown was building the Empire State Building. Simon Wexler was also remembered as a philanthropist who even had the mental health clinic named after him at Michael Reese Hospital.
Simon Wexler and his wife Lottie had three notable sons: HASKELL WEXLER: nominated for five Academy Awards and winner of two Oscars for Best Cinematography. JERROLD WEXLER: Chairman of Jupiter Industries, a Chicago holding company with interests in real estate, retailing and industry. Stepfather of Chicago-born actress Daryl Hannah. YALE WEXLER: A major hotel and real estate developer in the Chicago area, with a long career in the theater and in Hollywood, appearing in a number of movies and television shows during the 50's & 60's. He was the classmate of Andy Warhol and his actor's group included Marilyn Monroe, Paul Newman and Joanne Woodward. They also have a daughter, JOYCE WEXLER ISAACS, who still resides in the Chicago area.
Initially, Allied Radio's purpose was to distribute radio parts for Columbia Radio Corp. At the time, Allied Radio occupied a building at 711 W. Lake Street in Chicago, IL Coincidentally, this address was also used by Columbia Radio Corporation from 1926-1927, Hamilton-Carr Radio Corporation from 1927-28, and Randolph Radio Corporation in 1928."
Simon's grandson Mark became a filmmaker like his father, and in 2004 made a documentary called "Tell Them Who You Are" where he put his father on the other side of the lens. I haven't seen it but there's a 1 minute clip on YouTube:
I suspect Simon was an interesting character too. He was born in 1897 and in the 1940 Census the family address was 2340 N Lincoln Park W, which looks like a pretty nice neighborhood - and where he listed his occupation as being a "manufacturer" in the "wholesale furniture" industry even though he was then owner of Allied. I haven't found out how long he stayed with the company, but I did come across a nice little company history commemorating Allied's 90th anniversary last summer: VIEW