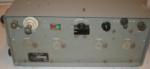 One even Dachis doesn't know about!
Posted By: Robert Nickels (ranickels)
A while back I acquired a six channel HF transceiver made by the Radio Industries division of Hallicrafters, probably in the 1960s, called an SBT-20. It is capable of 20 watts SSB or 5 watts AM (or CW with an optional board) in the range of 2-12 MHz and thus was probably aimed at commercial and light-duty military applications. The radio could by ordered with full 2-12 MHz range coverage, or where the six channels all had to be within one (or more) frequency ranges. Because different tuned circuits had to be installed for each range, this allowed users to only pay for what they needed.
The unit I have was set up for only one frequency range, which I thought was a shame since I could use my frequency syntherzer modication to over 160, 75, 60, and 40 meters if the tuned circuits were adapted. I've completed that for all but the PA, where a proper resonant tank circuit is needed for each band, and I'll post more information and photos of the SBT-20 when I've done so.
But in the meantime, a very rare accessory has come my way: the companion AT-10 antenna coupler - courtesy of my friend Al Culbert KØAL. He'd read my post looking for information on the SBT-20 and realized the coupler should be united with the radio.
My first thought was "But I'll probably never use it" - however after looking inside, I am so impressed I'll make a point out of using it! What a nicely done (albeit overkilled?) job! It is actually four tuners in one, each of which could be switched to match the transceiver to a long-wire or whip non-resonant antenna. This was pretty common practice for marine HF radios as well, since only a few preset coupler positions would suffice for the frequencies that would be used.
As the interior photo shows, there are four large roller inductors (the 4th is hidden under the SWR pickup box on the right). Since they were set-and-forget adjustments, instead of knobs the shafts have plastic screwdriver adjustements that can be locked in place. The component are clearly capable of handling much more than 20 watts and the roller inductors are much classier than the typical marine coupler which uses airdux type coils with clips that must be manually positioned. This is actuall four couplers in one box, where each acts basically as a loading coil for a short antenna.
The AT-10 is shown on a copy of a SBT-20 sales brochure (sorry for the low resolution) - but is not even mentioned in Chuck Dachis' "Hallicrafters Bible" as an accessory, which is unusual indeed.
More surprising, the small diagram which is probably the only documentation on the planet - was found stuffed inside. Older hams will recognize Trevose Electronics as a big ham dealer from years ago.