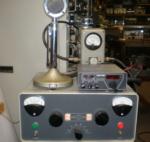 Dentron MLX-MINI gets some boots
Posted By: Robert Nickels (ranickels)
I thought it would be cool to use the Dentron MLX-MINI on the Saturday Vintage Sideband Net but it's a little marginal since the rule is "no tubes, go home!". However hybrid rigs are allowed, and Special Dispensation is given for rigs with Red LEDs. So I thought the MLX was double-qualifed - even more so after I realized the red LED display wasn't even working. After finding the Net by dead reckoning I checked the output from the Henry 2K which was serving as the PA section of my Ad Hoc Hybrid and found it would making over 100 watts output on voice peaks. Time to check in with my buddy and Official Boomaster and Net Control Extraordinaire, N9RK.
The heart of the MLX-series transceivers is the SG-9 board made by Mizuho Co. in Japan, which is an entire 9 MHz SSB exciter and receiver on one PCB. The idea was to sell a building-block to radio manufacturers who could save time and money having to re-engineer this part of a radio every time they put out a new model. But other than a few of it's own products, Dentron was the only amateur radio company that Mizuho was able to convince to take this approach, probably because Dentron was on the ropes at the time and really needed to get radios to market quickly. While it wasn't enough to save Dentron, the radios built around the SG-9 are quite good and the board was also used in the Hull 924 marine radio, which had to pass FCC type acceptance.
While it is definitely an odd pair, the MLX-MINI (running on lithium-ion battery power) and the Henry 2K accomplised the task of getting into the net - and no boos!
Check out the Vintage SSB Net for more info than you ever wanted to know about Old Sideband Junk and the Old Phartes who run them!