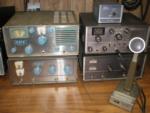 Can you help solve the mystery?
Posted By: Robert Nickels (ranickels)
Faust Gonsett started the Sideband Engineers (SBE) company in 1962 and introduced their first product, the SB-33 four-band transceiver with a two-page ad in 73 magazine for February 1963 that featured his mugshot on the left page and the introductory ad for the SB-33 on the right. He talks about how he came out of retirement to start this new company in response to many requests but doesn't say much else about the company.
The design of the SB-33 (which carried over to the SB-34) included a number of innovations never seen before, including the doubler/tripler method of doing selectable sidebands, the bilateral amplifiers, and the Geneva mechanism bandswitching arrangement, to name a few. The PL-500s had never been used as HF power amplifiers before, nor had anyone designed a safe transformerless HV supply (nor did anyone since, and going to a transformer in the SB-34 was, I suspect, a concession to the fact that hams just weren't comfortable with it). There are really only three frequency-dependent tuned circuits in addition to the pi-network output - two on the receive side and one on the driver. While VOX and a crystal calibrator were optional, selectable sidebands and RIT were standard. These are quite remarkable innovations at a time when many hams were still running AM or separate transmitters and receivers that looked like giants compared with the half-cubic foot sized SBE radios.
And that's all beside the most obvious feature - they were SOLID STATE radios! (except for the driver and PA). They were among the first of what would later become known as "hybrid transceivers" which would dominate ham radio for most of the '70s. SBE did it before Kenwood or Yaesu.

Who is responsible for these innovations - that's my question. We know that Don Stoner and Herb Johnson both had companies in the San Diego area making SSB radios, and that Faust had hired Herb to design the G-76 for Gonset, which is kinda how he got the idea to make the Swan monobander. I also now know that Ed Marriner and Ernie Mason both were very active in making homebrew SSB rigs in the San Diego area at the same time. Finally, there's Les Earnshaw, ZL1AXX who is credited for designing the Atlas 210 (but which I suspect actually goes back to the Atlas 180), and who started Southcom International which produced a synthesized manpack called the SC-130 which used similar circuitry (I have one). Southcom was also in San Diego and later was sold to Loral to become Loral TerraCom, a significant defense contractor which was later vacuumed-up by Lockheed Martin. SBE itself was sold in 1964 to Raytheon, another defense contractor, and ended up being moved to the San Francisco bay area. Raytheon had a large presence in marine radio (and CB) through its subsidiary Apelco, and brands Ray-Tel and Raymarine. But the innovations go back to the design of the SB-33 in 1962, and were not done by Raytheon engineers as some have incorrectly speculated. Many SBE CB radios as well as VHF and UHF ham gear that was built in Japan was sold well into the 70s but I think they sold the SBE business to Linear Systems in about 1972.

Given all these resources in the SD area, would Faust Gonsett be more likely to hire a slate of new engineers to create the SB-33? Or would he hire some of the local talent to do it on contract? My bet is he did the latter, since engineers who'd never designed an SSB rig before would, it seems to me, be unlikely to come up with all these innovative features in their first effort. My bet would be on Les Earnshaw, about which almost nothing is known. I contacted the NZART the other day (the NZ version of ARRL) but they only could give me the date he was first licensed in 1949. It would fill in a large blank in the evolution of SSB to know more about this missing link. And it would be nice to give credit where it's deserved.
Can you help fill in the gaps and decipher the mystery of "Who designed the SB-33/34?"
The radios shown are restored and in operating condition. Clearly a big change in styling was made with the SB-34 as well as the aforementioned power supply change. The SB-33 required an optional inverter for mobile operation but the SB-34 came with both AC and DC power supplies built in. (Another clever feature - the switching transistors for the inverter do double-duty as rectifiers for the 12 volt DC supply when powered from AC). I had an SB-34 in the early 70's and after running tube-type radios mobile it was great to have "instant-on" receiving and no worries about draining the battery as long as the filaments were kept off until needed. There's pleenty of receive audio and the front-mounted speaker and Collins mechanical filter delivered crisp and clearaudio. Transmit-wise, the SB-34 has more in common with a QRP rig than a pile-up buster! Typical carrier power output is 30-40 watts althogh SSB voice duty cycle helps improve power output by imposing less of an average load on the voltage doubler power supply.

Which is why the companion linear amplifiers were offered. They are virtually identical except for appearance, with six 6JE6 sweep tubes and dual voltage doubler power supplies that are connected in series. The transformer is heavy-duty and good quality RF components are used with the exception of the bypass relay that is keyed by a 12 volt line from the transceiver. This relay, made by Advance division of Elgin Watch Co., has no precious metal on the NO or NO contacts, and after finding it imposslbe to adjust the contacts to make contact and not arc, I replaced it with a modern "ice cube" relay for the T/R function and another SPDT relay for the soft-start. Both amplfiers are totally quiet in operation due to the reliance on convection cooling, aided by the soft start and bias that keeps power consumption at a minimum except when transmitting. Still, an external fan would be a good idea, especially with today's sweep tube prices!
It's well worth the effort to restore these radios, which largely consists of replacing electrolytic capacitors in the power supply and the small ones in the audio circuitry which often create strange distortion and low gain problems. Alignment is simple and unlike many radios a special adjustment makes sure there is no frequency shift between transmit and receive. These are SSB radios, there is no provision for AM or CW. Although the optional "Codaptor" injected a sinewave tone to generate a CW output, coverage of the CW portions of the four bands is very limited.
For portable operation, even by today's standards the SBE rigs are worth considering, since the lack of a digital synthesizer means no phase noise and low power consumption on receive. And - there's a built-in handle!