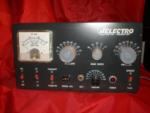 Posted By: Robert Nickels (ranickels)
After the conclusion of World War II, there were only about 300 radio amateurs in Japan. In the year 1952, the JARL reported that only 30 provisional licenses were granted. Realizing the value of ham radio in developing a technological workforce, Japan introduced its entry level Class 4 licence in 1959 - it would prove to be the world's most successful category of amateur radio license with over 3 million licensees.
In the beginning Class 4 license holders were permitted 10 watts output on the 1.9, 3.5, 7, 21, 24, 28 MHz bands but with both phone and CW privileges. This stimulated an expansion of the number of licensed hams to over 2000 in just two years.
The Japanese system included an incentive to upgrade to a higher class license to obtain more privileges, including higher power. While 10 watts was sufficient for getting started, to run 50 watts or more required a higher grade license - all of which created demand for new radio equipment, that several Japanese manufacturers were happy to provide.
At least one is still in the ham radio business - Kasuga Radio Co Ltd., the predecessor of Trio-Kenwood Corporation, has been in the electronics manufacturing business since 1946 and is a major player yet today. It's early offerings included the Trio TX-88 series of AM-CW entry-level transmitters which were very successful and put the company on it's path to industry leadership. All most American hams know about Japanese radio equipment are the few receivers which were made by Trio and imported by Lafayette Radio. However there were many other transmitters and receivers and later transceivers that were sold almost exclusively to the Japanese market.
Among them was the Jelectro QRO-60 which competed against the Trio TX-88. Jelectro had been in the business previously as one museum site mentions the Jelectro FB-73 receiver, a 9 tube superhet. But as far as I've found, the 1960 QRO-60 was the only transmitter put out by the company, which seems to have faded away before the SSB era began a few years later. It is a 5-tube AM-CW transmitter using a 6DQ6 sweep tube in the PA, rated for 60 watts input. Crystal control and screen modulation are provided, making it very similar to popular US novice transmitters such as the Heathkit DX-40, Knight T-60, or Hallicrafters HT-40.
I was recently able to acquire a QRO-60 in what appears to be "museum condition" with no apparent signs of having ever been used. It is a rare find even in Japan as not that many were built, so I'm pleased to be able to give this compact little transmitter a home and will soon be putting it on the air.
Thanks to my friend Masa AB9MQ for the JA-land CQ magazine photos which show the Jelectro right at home with the Trio, Sanwa, and other offerings for the newly licenced Japanese amateur. And for the link to this Japanese ham's vintage radio museum that includes models never seen in the US. Interestingly, quite a few recognizable company names can be found even as far back as the 1950s. Here's a Google English translation of the original site.