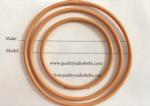 Standard or custom made and inexpensive
Posted By: Robert Nickels (ranickels)
Some things you can improvise around, others - no way! And drive belts for radios are one of the latter, when one is broken or stretched to be unusable you need a new belt - but where to get it?

Here's the answer: RADIO BELTS
Many standard belts are shown but custom belts are no problem, just send them the information needed. A great service to the hobby!