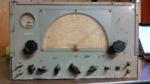 Made of command set parts!
Posted By: Robert Nickels (ranickels)
The HW-16 had to be pushed aside while waiting for parts, creating an opening just big enough for the homebrew receiver I got recently via eBay for $18.50 - plus 2X that to ship it here. I like saving and restoring old homebrew gear just out of respect for the amount of time and effort our forefathers put into making things from scratch, and this receiver intrigued me, as the IF transformers were from the Command Set.
It's a 15 tube dual-conversion superhet covering 160-10 plus six meters (the 2-tube six meter converter was removed, but plugs into the sockets at the rear). Naturally there was no documentation which only adds to the fun ;-) I hadn't seen the underside of the chassis before it arrived but I was pleased that my assumption was correct, that anyone who went to the effort that was obvious from the top side layout would do a neat job of it. The wiring is neat and makes uses of the 8-terminal wiring terminal blocks and 3-in-1 bypass capacitors from the command set receivers, all of which are still good. I suspect other components are of mil surplus origin as well.
The first IF at 1415 kHz uses the transformers from the 3-6 MHz receiver and the second conversion is to 85 kHz where those wonderfully narrow BC-453 IF transformers make the receiver very usable to copy SSB. The only problem was the IF was misaligned enough from the BFO range that it wasn't demodulating properly until I tweaked it up, with the help of the little Dentron MLX-Mini 80 meter QRP transceiver that is being held down by a D-104, which served as my SSB signal generator.
The results are very impressive, the stability is good enough to stay tuned to a SSB signal and sensitivity is under a microvolt on 20 meters without doing any more than IF alignment. Routine preflight stuff like cleaning and de-oxiting controls and tube pins and replacing the filter caps resulted in a totally deaf receiver until I found a couple of components leads touching that shouldn't have been that was shorting the audio. Then two dead tubes later I had radio! Not bad for a set that hadn't been powered up in who knows how long?
The dial is hand-calibrated but seems to be reasonably close and provides a good tuning rate. The panel is a little rough so I'll have to think about what if anything to do about that. The S-meter is from a Breting 12 and seems to be defective, but that's easily corrected. The dial reminds me of the Marconi marine sets, it's just a dial cord reduction but is smooth and works well. Obviously damp basements or garages are not the best places to store old radios!
My $54 receiver is a keeper! While using surplus parts was common in the 50s or 60s when this was built, I applaud the builder for taking the extra time to create a full-featured ham receiver using surplus parts rather than just hacking up a couple of command sets. Performance-wise, this receiver is in the same league as commercial offerings from Hammarlund, Hallicrafters, or National, which is pretty good for a homebrew job.