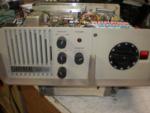 A nice crystal-controlled SSB oddball radio
Posted By: Robert Nickels (ranickels)
What can I say, I like oddball radios! There was already a different version of this CAI CA-125 on my shelf but it had the remote control head, and this one was cheap, well under $100 including shipping, and I'm easily amused.
Communications Associates Inc. was a supplier of commercial, military, and marine radios based in Huntington Station, NY but I haven't found much about the company. Like many others, they developed products for marine SSB communications but the CA-125 is something of a transition product in terms of technology. Originally this type of radio was channelized, that is, each individual channel had it's own crystal and transmit and receive tuned circuits, often on plug-in board called "channel modules". Since each module had a limited tuning range, a half dozen or more were needed to cover the HF bands from 2-18 MHz used for maritime communications. And since the marine bands don't correspond with ham bands, repurposing these radios usually requires modifying the channel boards.
Later radios incorporated digital synthesizers and a set of bandpass filters just like ham rigs of the 80s and newer did. Changing frequencies might require reprogramming a diode matrix, EPROM, or maybe just entering new values from a keypad, so this type of radio is a lot more ham-friendly.
The CA-125 is somewhere in between. It uses crystals for frequency control, but adds unlike most it's a double-conversion transceiver with a first IF at the oddball frequency of 1143 kHz and the 2nd IF at 457 kHz. But rather than using crystals that operate a fixed frequency above or below the desired operating frequency, CAI used crystals at four times the needed frequency, and some digital logic to divide down to the needed frequency. I'm not sure what advantage this offered, as it's unique in my experience with this type of radio.
But the rest of the transceiver is broadbanded, so no channel modules are needed, just jumpers to select the correct set of filters. The 1143 kHz IF is unique as well, using a crystal lattice type filter. Another unique aspect of the CA-125 is that all tuning is done by voltage-variable capacitors (varicap diodes) controlled by trimpots. At least that bypasses the problem of breaking a core in a slug-tuned coil! The five plug-in varicap-tuned filter boards for the exciter and receiver uses cup-core inductors and small air variables. As can be seen from the photos, the quality of components and construction is top-notch, reflecting the company's desire to sell to demanding users such as the military and commercial SSB users at the time. However it's likely that marine SSB was the main market as per the ad from a 1977 yachting magazine. This unit came with a full bank of crystals and the channel knob indicates these included San Francisco, Seattle, and other marine ship to shore stations. Some required two crystals due to the use of duplex operation, and any channel could be set for AME mode which was required for the emergency frequency of 2182 to make it possible to hear distress calls from old AM-only radios that might still be in use even after the official transition to SSB.
Output power is 125 watts with reed-relay switched low pass filters. Hopefully by learning how to enable the various filters and adding a digital synthesized VFO I'll be able to put the CA-125 on the ham bands.