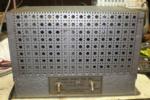 AC power supply for the A54
Posted By: Robert Nickels (ranickels)
Some pieces of vintage ham gear are not really unique, but are so rare as to almost never be seen. The Multi Elmac PS-500 power supply is an example, it was sold as an AC power supply for the A54 and A54H transmitters in the mid-50s.
There's nothing special about it - just a big transformer with 5 volt rectifier, 6.3 volt filament, and 500 volt secondaries. Two nice chokes and 8uF filter caps (replaced with 16uF) smooth out the B+ and a toggle switch turns it on and off and provides external contacts for receiver muting.
So why is it so seldom seen? For one thing, in the mid 50's most hams were builders and to put together a power supply like this was a few night's work using surplus parts that were cheap and readily available. Secondly, the A54 was primarly a mobile transmitter and in all likelihood few were used at fixed stations where AC power. Finally - then as now, hams were cheap! Why buy when you could build?
Other than replacing the old filter caps and cleaning up some wiring this example is in nice shape, so whoever did purchase it evidently took good care of it.