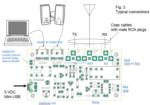 for reference
Posted By: Robert Nickels (ranickels)
This diagram shows the normal connections for antenna switching and muting amplified computer speakers as would be used with an SDR or SDR-panadaptor. All connections are "plug and play", and the amplified speakers can be left attached all the time for normal computer sound use. The audio will be muted when RF is present and a sidetone will be heard if the Sidetone Volume trimpot is advanced.
The "UNMUTE" pads must be jumpered for normal muting. A SPST switch may be connected to these pads if it is desired to be able to disable muting so the transmitter may be heard through the speakers while transmitting.
Sidetone volume should be set to full CCW position except when using CW to avoid hearing tone in the speakers.