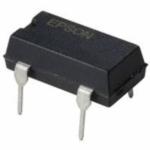 Cheaper and more accurate and stable than the old type
Posted By: Robert Nickels (ranickels)
With the demise of International Crystal in 2018, hams and experimenters lost the last US-based source of affordable one-off custom crystals. (And the definition of "affordable" ended up over $30 each). Sure there are some offshore sources but the reality is, manufacturing one crystal to a specific frequency is not simple or inexpensive, and all crystal makers are facing the reality that demand is a fraction of what it once was and dropping rapidly. Fifty cent crystals are available - if you are willing to buy 1000 at a time.
What about the guy who needs a crystal to bring an old radio to life, or for a homebrew project? The modern solulution is the programmable oscillator, which is an integrated crystal and PLL that is one-time programmed to your particular frequency from 1 to 125 MHz. Frequency stability is +/- 50ppm from -20 to +70 degrees C and these are not just crystals, they're complete oscillators-on-a-chip. All that's needed to obtain a 5 volt peak-to-peak output signal is power (+5 or 3.3VDC) at 45 mA and ground. And enable pin makes it easy to turn these devices on off (i.e. keying). They're available in several packages but the 8 pin DIP is a good choice for most ham projects as it can fit into a space no larger than an old style FT-243 crystal.
The photo below shows how compact "one rock" using the mini-DIP package can be. This small form factor is great for testing and since there's an onboard 5 volt regulator, power can be tapped from any convenient low voltage DC source. In many cases, coupling the oscillator signal to the "hot" side of the old crystal socket as is done here produces good results.