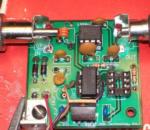 Modify as needed
Posted By: Robert Nickels (ranickels)
I found myself wanting to convert various frequencies to other frequencies and wanted a cheap and easy solution, so I designed a simple "universal converter" using the NE-602 and a programmable oscillator from Epson. I'd used the same combination in hundreds of "RANVerter" SDR Upconverter projects since my Dec. 2013 QST article and knew that while there were limitations, this was a good combination for a simple yet functional solution.
The NE-602 is well understood to have a limited dynamic range, but on the other hand provides useful conversion gain that more than offsets mixing losses and on the lower HF bands at least, makes an RF amplifier unnecessary. The Epson oscillator outputs a square-wavish TTL level signal which purists complain is not ideal for use as a local oscillator but which provides good results regardless. The output is attenuated to meet the LO input requirement of the 602, otherwise it's straight off the datasheet and many 602 app notes that are easily found. I included a 5 volt regulator so the converter can be powered from existing 12VDC power sources or with a voltage double running from a 6.3VAC filament line.
My input filter is totally inadequate - yet works well! Just a fixed inductor and resonating capacitor for the band of interest and a couple of turns to link couple to the low-impedance antenna. Thanks to the conversion gain of the NE-602 the resulting sensitivity when used ahead of a Command Set or boat radio is sufficient to hear every signal that is there to be heard. Obviously better front-end selectivity would be a plus, and a double-tuned preselector should be a good solution or a low-pass filter could be used to knock out an image.
Here's an example of using this converter to shift the 455 kHz IF froma little shortwave receiver to 3395 kHz where it is displayed on a Heathkit SB-620 panadator VIDEO
Another video example of the universal converter used to convert the 75 meter ham band down to the range of I2PHD's Arm Radio:
As noted on the schematic, the Epson oscillator can be ordered from DigiKey by specifying the desired LO frequency IN MHZ in the "Order Notes" box on their order entry form. It is a value-added part so will show as "backordered" but typically it takes a day or less for them to program your frequency into the chip.