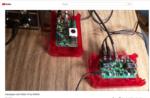 Use the VERSA-TR to improve your SDR panadaptor
Posted By: Robert Nickels (ranickels)
An inexpensive SDR like my RANVerter Pi Plus can add a panoramic spectrum and waterfall display to almost any vintage (or modern) radio. The ability to use the SDR as a 2nd receiver that can be tuned to a different frequency or mode from the main transceiver is a real plus, but annoying feedback and delayed audio will be normally heard through the PC speakers in the transmit mode. But the VERSA-TR can be used to provide automatic muting of the PC speakers, allowing for normal transceiver operation with the benefit of a panadaptor display and a 2nd receiver with DSP.
Here's a short video that shows it in operation: https://www.youtube.com/watch?v=t4eM_rFvY30
In this application, the transceiver is connected directly to the antenna through a "T" connector, which allows a sample of the RF to actuate the VERSA-TR:
One side of the T is connected to the TRANSMITTER RCA jack on the VERSA-TR. The amplified speaker and PC audio are connected as usual so the audio will be muted when RF is present:
That's it! Enjoy the advantages of modern DSP audio and a panaoramic display on any vintage radio!