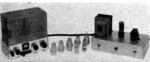 a great "first homebrew xmtr" project
Posted By: Robert Nickels (ranickels)
Jay Miller KK5IM recently wrote an article in Electric Radio magazine about fulfilling his dream of building a homebrew "AM Kilowatt" transmitter (375 watts output by today's standards). His crystal-controlled exciter that drive the 813 was based on his Novice transmitter, which was built by his grand-uncle back in the 1960s when Novice class hams were lmited to less than 75 watts and crystal control. The design came from an 1961 ARRL Handbook article (attached below) called "All Band Inexpensive 40 watt Transmitter", that used the classic line-up of a 6AG7 oscillator followed by an 807 or 1625 PA. (The 1625 is identical to the 807 but has a 12 volt filament, which would require a different filament connection, but was commonly available for pennies from military surplus dealers at the time).
This circuit would be an ideal "first homebrew rig" starting point because the parts are still inexpensive and not difficult to find (variable capacitors being the possible exception), it can be adapted to any ham band by choosing the right L-C values without the complexity of bandswitching, and it has everything needed to actually use on the air, including metering and provision for spotting the crystal requency with the receiver. (Back in the day of crystal control it was common to work "split" where each station tuned to the crystal frequency of the other).
The coils described are made from cutting sections of "Air Dux" to the required length. Air Dux and similar coils were commonly available at the time and not expensive but today that's no longer the case. For the HF range, PVC pipe is a suitable coil form, or there are articles describing how to make the exact same type of self-supported air dielectric coils using a bit of plastic and glue. A very good article by W3JIP showing how this is done appeared in QST magazine and is also linked below. Thanks to the ARRL for making this needed information available!
Hamfests and online sources will provide all the parts needed with a little patience. Hammond is the best source for new power transformers and chokes and while not inexpensive, making a separate power supply as shown makes it easy to use with future projects.
One thing that isn't included is a T/R switch or relay to switch the antenna between transmitter and receiver and to mute the receiver during TX. I can solve that problem however! This is a perfect application for my VERSA-TR which was described in the December 2018 issue of QST and is available in kit from from Hayseed Hamfest. In addition to automatically sensing and switching the antenna, it can mute the receive audio and by connecting amplified type speaker(s) a pleasant sidetone is generated for CW monitoring.
Hams have been using vacuum tubes longer than anyone but it's the guitar players who have kept tube manufacturers in business and amplifier builders that have provided companies with sufficient volume to keep making transformers and other components. So all hams wishing to re-live the golden age of building their own ham gear that is still very usable on the air need to do is take advantage of these sources and dust off a classic transmitter design like this one.