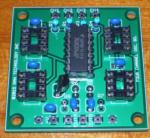 One board, up to four frequencies
Posted By: Robert Nickels (ranickels)
Epson programmable oscillators are a good substitute for quartz crystals in many applications, but they're a bit different to use. First, they are active devices that require DC power, typically 5 volts at 45mA. Second, like all ICs they are easily damaged by static and voltages that exceed the design limits. Finally they are in DIP packates that are intended to PC mounting, not hand wiring.
The original four-channel board is a 2" square PCB that addresses these needs by providing sockets for up to 4 Epson oscillators, a voltage regulator that works on any DC voltage from 8 to 20 volts, and proper buffering of all control and output signals so that if excessive voltage is inadvertently applied, a 25 cent IC is all that's damaged. Buffering also makes it possilbe to select one of the four frequencies with a logic "low" or a contact closure to ground to facilitate interfacing with existing circuits.
In the old days crystals were a few dollars each, but in recent years before International Crystal closed it's doors, the price of a custom one-off crystal had risen to over $40. The cost of the Four Channel Oscillator board plus four Epson oscillators is less than the cost of a single crystal! The accuracy and stability is equally good at 50ppm. Any desired frequency can be obtained in just a few days time from DigiKey, the US authorized distributor for Epson's programmable oscillator products. These items are "value-added", meaning they must go through DigiKeys's programming department before shipment,, but don't worry - they always have a good stock on hand. The price is $4.10 for an oscillator programmed to any desired frequency between 1 and 125 MHz, truly a modern-day bargain!