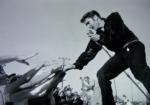 Shure 55 that is...
Posted By: Robert Nickels (ranickels)

How'd it get that name? The photo pretty much says it all...
One of mine had a problem - the guts could be heard rattling around loosely insdie. The "capsule" as it's called nowadays at least is held in position by three rubber "socks" that fit over metal tabs to provide acoustic isolation from the mounting provisions in the housings. Not surprising after all these years, the rubber had deteriorated to dust, allowing the metal tabs to rattle around loosely. See the images below to see what the "socks" look like and my solution.
A 3/8" rubber grommet is a tight fit but to my surprise when stretched over the capsule tabs fits perfectly into the housing. The rubber is harder so the acoustic properties may not be the same but for a few cents and minutes, it's a great fix!
I also noticed the output of this mic like others was intermittent electrically. This was due to the impedance selection switch, which is in the ground side of the mic circuit. Since I have no interested in anything other than high impedance output, I just run a short ground wire from a mounting screw to the green wire connection at the bottom of the mic element, problem solved forever!
For a lot more about the "Elvis Mic" aka the Shure 55S, please check out Scotty Moore's site Yes, THAT Scotty Moore! The guy who played guitar for Elvis from 1954 through 1968 - a guy who ought to know!