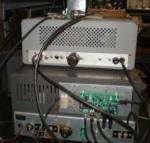 VERSA-TR makes it easy to play radio
Posted By: Robert Nickels (ranickels)
I like to play radio! As a SWL and novice, I'd imagine owning different transmitters and receivers and now that I actually DO own many of them, it's fun to "mix and match" to put them on the air. That's mainly why I developed the VERSA-TR, which is an RF-sensing T/R and muting switch, so I could easily change out transmitters and receivers and have easy one-switch operation without having to mess with wiring up auxiliary plugs or un-stick always sticking Dow Keys!
Pre-Novice ham transmitter fantasies aside, I generally came to the conclusion that I'd end up with a Knight Kit T-60 because it was the most affordable choice in my well worn Allied catalog. Probably alongside an R-55 for the same reason (my first shortwave receiver was a Span Master and I knew for sure I'd need something better than it). The receiver issue was resolved when my dad and I found a nice used Hallicrafters SX-110 in a radio-TV parts store in Springfield MO while on vacation at my grandparents not far from there. The transmitter ended up being a close cousin of the T-60, a Hallicrafters HT-40, from the Reconditioned Equipment Department of WRL in Council Bluffs. I think it's a better looking rig than the T-60 but they're pretty much the same - a simple transmitter capable of running close to the "Novice gallon" of 75 watts input with a controlled carrier AM modulator thrown in because a) it was cheap and b) gave you something to look forward to as a CW-only Novice ;-)
The audio from these rigs is actually not bad, and can certainly be heard better when they are run through a linear amplifier, which NO ONE DID back in the 1960s. If you had a linear amplifier, you operated it on SSB, which is what everyone like me who was stuck on PW AM wanted to do! But in the nostalgia-AM era, why not? In any case I usually prefer to run these novice rigs "bare metal" just to show that low power AM can be heard over pretty good distances if you have a decent antenna and a clear frequency (which the AM nets provide).
The resting carrier level from the T-60 is about 8 watts, which rises with modulation to make about 40-50 watts PEP. Not bad for a radio you can hold in one hand.
The Allied A-2516 receiver is much better than anything that bore the Knight Kit brand but it was also more expensive and not avaialble at the time. Probably the closest simlar receiver would have been a Drake 2B, or a Hallicrafters SX-111 or Hammarlund HQ-110. All pretty good receivers but I chose the A-2516 because it was at least sold as a private label product by Allied Radio, made in Japan by Trio which would soon become well known to US hams via the Kenwood brand.
An interesting feature of the A-3516 is its VFO output, which I may have more to say later! Right now it's a compact and usable little AM station, nicely tied together with the VERSA-TR. And a RAN-Sampler is used to make sure the controlled-carrier modulation sounds Fine Business.