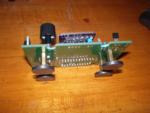 Posted By: Robert Nickels (ranickels)
It's always a challenge to hold PC boards during assemly and testing. After purchasing a magnetic holder from Amazon I realized I wanted more and could easily make as many as I wanted using inexpensive 3 mm hardware from eBay and some strong "fridge magnets". All that's needed is to epoxy a standoff to the magnet - both tapped and threaded types are available. In some cases the protruding threads are sufficient to hold a board without having to put a nut on, but I'd suggest getting an assortment of both nuts and screws in addition to the standoffs. (eBay prices from China are much cheaper if you don't mind waiting a few weeks). Some of my epoxy jobs have been better than others, I may try JB Weld the next time to see if it holds better than the standard hardware stuff - super glue also works about as well.
If you make some with both threaded and tapped standoffs you can sandwich a board in between and have magnetic holders on either side, which is handy for checking a board out. And for some projects a set of magnetic standoffs may become permanent mountings for a board that needs to be attached to a ferrous metal surface - no holes to drill!