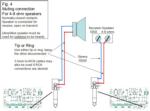 Muting requires a different speaker connection
Posted By: Robert Nickels (ranickels)
VERSA-TR can be used to mute conventional (non-amplified) speakers as would be used with a non-SDR receiver. This requires the user to wire up two cables with 3.5mm (1/8") stereo plugs on one end. Note that connections are made to EITHER the tip or ring of the connector and to the sleeve which is normally the ground return. It doesn't matter whether you use the tip or the ring as long as you use the same terminal on both cables. When connected as shown, there will normally be a closed circuit between the receiver audio output terminals and the speaker. When RF is sensed, the circuit will be opened, muting the receive.
Because a conventional speaker does not have amplification, the CW sidetone won't be heard. If sidetone is desired, it will be necessary to use amplfied speakers, and if the audio is taken from the headphone jack, the conventional speaker can usually be left attached. Plugging the cable into the receiver headphone jack will usually disconnect the speaker, and both audio and sidetone will be heard through the amplified speaker.
Other possibilities are open to experimentation!