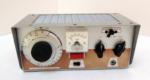 A long-sought addition, enabling my mid-60s UK ham station
Posted By: Robert Nickels (ranickels)
For many years I have wanted to add this cute little AM transmitter to my collection, but since it was never sold in the US, the number that came up for sale were few and far between. And there was usually a buddy waiting in line, or a reluctance for UK sellers to bother with the hassle of shipping to their former colony when local buyers were close to hand.
However I'm pleased to have acquired a nice specimen and not only the matching AC power supply, but an unused DC power supply and switching control panel (evidently the challenge of low power AM mobile was too great for the former owner(s)?).
The Codar Radio Company was based in Sussex, England and operated from approximately 1960-1970, manufacturing a number of entry-level receivers and accessory items such as an RF preselector, Q-multiplier, even electric train controllers in kit form - but only one transmitter: the AT-5. This was a 10 watt AM and CW transmitter with VFO coverage of the 160 and 80 meter bands with 10 watts input, and both AC and DC power supplies were offered. The price in the mid-60s was £16 which the Bank of England's inflation calculator says would be more than £300 today! So it was not inexpensive, but evidently they sold well to British hams, as they are not uncommon in the UK. The problem for me was, most of them STAY in the UK, and for good reason - 10 watts of CW or good quality AM is as much fun today as it was 50 years ago.
From my research, even UK hams have not discovered much about the history of the Codar company, other than two hams, R. E, Ireland G3IRE and F. Fennell G3HGQ having been part of it, both with addresses in Brighton. The company evidently operated out of several addresses around Sussex over the years - it would be interesting to learn more about the company and it's operations.
While little is know about the company or it's factory, the concensus is it was a pretty small operation, although the company remained in operation in some form at least into the mid-70s, according to Radiomuseum: "Codar electronic model railway controllers were made between late 1966 and 1977/78. The "Model Railway News", Feb 1967, states: Codar Electronics are a division of CRC the Codar Radio Company. " In addition to the ham radio kits the company offered a line of air-spaced inductors they called Codar-coils, similar to the "Air-dux" products in the US. Codar products were evidently distributed in Canada by Jayco Electronics of Tweed, Ontario, but I've found nothing more about that than the name listed on brochures.
On that topic: Mike, G4KVK offers an extensive list of Codar brochures, manuals, magazine articles and other information at his website. Documents at this site are a MUST for any Codar owner or user!