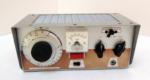 A long-sought addition, enabling my mid-60s UK ham station
Posted By: Robert Nickels (ranickels)
For many years I have wanted to add this cute little AM transmitter to my collection, but since it was never sold in the US, the number that came up for sale were few and far between. And there was usually a buddy waiting in line, or a reluctance for UK sellers to bother with the hassle of shipping to their former colony when local buyers were close to hand.
However I'm pleased to have acquired a nice specimen and not only the matching AC power supply, but an unused DC power supply and switching control panel (evidently the challenge of low power AM mobile was too great for the former owner(s)?).
The Codar Radio Company was based in Sussex, England and operated from approximately 1960-1970, manufacturing a number of entry-level receivers and accessory items such as an RF preselector, Q-multiplier, even electric train controllers in kit form - but only one transmitter: the AT-5. This was a 10 watt AM and CW transmitter with VFO coverage of the 160 and 80 meter bands with 10 watts input, and both AC and DC power supplies were offered. The price in the mid-60s was £16 which the Bank of England's inflation calculator says would be more than £300 today! So it was not inexpensive, but evidently they sold well to British hams, as they are not uncommon in the UK. The problem for me was, most of them STAY in the UK, and for good reason - 10 watts of CW or good quality AM is as much fun today as it was 50 years ago.
From my research, even UK hams have not discovered much about the history of the Codar company, other than two hams, R. E, Ireland G3IRE and F. Fennell G3HGQ having been part of it, both with addresses in Brighton. The company evidently operated out of several addresses around Sussex over the years - it would be interesting to learn more about the company and it's operations.
While little is know about the company or it's factory, the concensus is it was a pretty small operation, although the company remained in operation in some form at least into the mid-70s, according to Radiomuseum: "Codar electronic model railway controllers were made between late 1966 and 1977/78. The "Model Railway News", Feb 1967, states: Codar Electronics are a division of CRC the Codar Radio Company. " In addition to the ham radio kits the company offered a line of air-spaced inductors they called Codar-coils, similar to the "Air-dux" products in the US. Codar products were evidently distributed in Canada by Jayco Electronics of Tweed, Ontario, but I've found nothing more about that than the name listed on brochures.
On that topic: Mike, G4KVK offers an extensive list of Codar brochures, manuals, magazine articles and other information at his website. Documents at this site are a MUST for any Codar owner or user!
After World War II a large part of the U.S. 160-meter band was allocated on a primary basis to the LORAN-A radio-navigation system that generated a buzz-saw racket from 1942 til it was phased out completely in 1980. During the peak LORAN years, amateur operation was on a secondary, non-interfering basis with severe power and frequency restrictions, depending on proximity to coastlines.
Despite similar restrictions in the UK, 160 meters was the primary band used for mobile operation for many years, and also was used for local rag-chew operation in the same way that 6 and 2 meters were in the US. Often referred to as "top band", 160 meters was also known as the "gentleman's band" as power and antenna challenges meant it was somewhat less crowded and more laid-back than the more popular bands. The RSGB magazine and others were filled with top-band transmitter construction articles, a long list of which can be found here.
It had to be something of a challenge to be heard on 160 meters mobile with 5-6 watts into the antenna! Members of the KW-Radios group mention popular 160m mobile whip antennas included the G3FIF base loaded coil with a 6 ft. telescopic whip, the "G-Whip", and the TAVASU whip, both of which had loading coils for operation on higher bands Roger G3VKM described his mobile setup in "a Mk 4 Austin-Healey Sprite with a A510 tuneable whip mounted on the luggage rack"! Richard G3UGF had a " TW topmobile and an EC10 Rx crammed into an original 1950's Fiat 500", and several mentioned using the Codar AT-5 mobile along with its companion T-28 receiver. Home station antennas included the ever-popular 132' inverted L, half-wave dipoles, even long-wires supported temporarily by surplus RAF kites! But the most interesting antenna is described by Peter G3RZP:
"His antenna was written up in the RSGB Bulletin as the 'Top Band Special'. There were two 38 foot wooden masts 96 feet apart in roughly a North - South direction with the house at the north end about ten feet from the mast: the antenna wire left the house and went to the top of the mast, along to the top of the other mast, vertically down it to about 8 feet above the ground, back under the top wire to the house, with a loading coil about 15 feet from the end. The loading coil was adjusted for maximum current in the middle of the vertical section, and it was a half wave on 160, fed against earth, which was some 400 feet of sandstone before the water table was reached. Hardly an earth at all....In daylight, it would happily work mobiles 50 mile away, while doubling in the PA to 80m, with about 5 watts input, early one morning, he worked into W1 on CW!"
All of which just proves once again that hams will find ways to make communications possible, even under adverse conditions.
The AT-5 uses a Vackar type VFO which is very stable and was widely used in tube-type SSB transceivers. The use of a simple "doubling coil" makes it possible to cover 80 meters using a separate dial scale, 180 degrees opposite on the VFO dial, but efficiency on 80 is somewhat reduced by having a PA tank coil that is twice as large as it needs to be. Some prior owner corrected that by adding a switch to the front-panel that shunts half of the coil for 80 meters, bringing the output power to the same level as 160 - about 6 watts. The HT (Brit-speak for B+, aka "high tension") is only 250 volts, and the PA and modulator valves (tubes!) are 6BW6 types, which are not commonly seen in US-made gear but which are roughly a 9-pin noval packaged version of the 6V6, usually bearing the Brimar brand. The modulator has no problem delivering 100% modulation but as the manual says, the rear-panel audio gain control is normally run at or near wide-open. There is a socket next to it that is supposed to hold the tool used for adjustment of this pot, but most I'm sure are long gone, as is mine. The plate current meter makes for easy tuning and a neon indicator flashes with modulation - very cool!