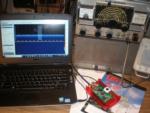 An important question - and the answer is YES!
Posted By: Robert Nickels (ranickels)
My primary aim when desiging the VERSA-TR was low power transmitters, and to protect the receiver from potentially damaging voltages when transmitting.
100 watts into 50 ohms is a +50dBm signal. I'd measured the attenuation at the receiver connector in the labe at -60 to -70 dB (depending on frequency), which means that should result in -10 to -20dB at the receiver, which should be a safe value for any receiver (i.e. less than 100 microwatts).
But you can't always guess what the real world will do, especially since capacitive coupling between PCB traces, across the relay contacts, etc will vary with frequency. So I measured the RF level using a millivoltmeter when putting 100 W (actual a bit more) through the VERSA-TR (i.e. with a 50 ohm dummy load connected to the transmitter through the VERSA-TR T/R relay). The measured value was -19dBm, which is about 25mV RMS or 12 microwatts (.000012 watts). Since I started with +50 dBm that is 69 dB of attenuation, which agrees with what I measured in the lab.
The only effect on a conventional receiver will probably be a "pinned S meter" in transmit.
How it affects and SDR waterfall display depends on how sensitive the SDR is - MDS sensitivity, RF gain setting, and any attenuators, preamps, etc that might be engaged. It also depends on the dynamic range of the SDR which varies from 49dB for the low-cost rtl-sdr dongles to over 100dB in high performance SDRs. The less dynamic range an SDR has the easier it is for the ADC in the SDR to saturate, producing distortion and spurs, which is why it's typically necessary for the operator to adjust the RF Gain control when using low-cost SDRs.
SDR users will very likely see the equivalent of the "pinned S meter" when transmitting - - a strong spike and an elevation of the noise floor or spurious signals in the display, depending on the SDR in use and all the variables mentioned above. For example, when I use an rtl-sdr with the AF-67 shown with 40 watts output (+46dBm) the resulting -24 dBm signal at the rtl-sdr input causes it to go into saturation with a huge center spike and rise in the noise floor, but it's not a problem because it recovers instantly when I stop transmitting, and I know that the voltage present is insufficient to cause any damage to the SDR.