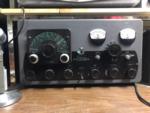 "it's about the journey, not the destination..."
Posted By: Robert Nickels (ranickels)
Not a lot is known about Jacob C. Thomas, other than he was born in 1903 to John and Anna Thomas in David City Nebraska, and died just a few months short of his 90th birthday in the same town. And that he was a radio man.
David City is a small town of 3,000 not far from my home town so it made sense that the auction notice would appear in the local newspaper where my Dad would see it. A lifelong auction fan, he seldom missed one where tools and such were offered, but he'd never seen one listing ham radio equipment and radio parts and tubes like this. Of course he thought I should make a trip from Illinois back to Nebraska for the event and I certainly agreed. In 1993 I already was into the boatanchor collecting aspect of the hobby but the demands of work had limited my ability to restore and use a lot of my "inventory". Nonetheless, it was always a good time to acquire more!
The auction was held in a large public building and since my brother-in-law had brought his truck and trailer as I figured the number of bidders interested in the radio stuff would be low and wanted to be prepared to haul most everything home. But it turned out that the auctioneer had done his job well, and a sizable crowd of hams and others in attendance from as far away as Kansas City, a four and a half hour drive away. Clearly this wasn't going to go quite like I had hoped...
The tubes were of high interest and I remember they ranged from rare early receiving tubes to transmitting tubes still attached by springs inside their wooden shipping cages. I found later that Jake Thomas was not only WØGLS (nee W9GLS) but the holder of a license for an AM radio station, WRAR, which evidently operated in David City for a time. According to what I heard from others and surmised from the type and number of high power tubes, modulation and plate transformers, matching sets of meters, "breadslicer" air variables and similar items at the auction, he also designed and built broadcast transmitters for radio stations. This was common in the days before companies like Gates, Collins, McMartin, and others would dominate this market. I don't know what he did for a living but I wouldn't be surprised if he worked in the broadcasting field or ran a repair shop, as his inventory of parts, tubes, and equipment greatly exceeded that of most hobbyists.
A number of hams scarfed up the most desirable piece of gear and components for homebrewing at prices greater than they were worth to me. For example, there was an early Collins transmitter, mabe a 30FX or even a 30W, the first one built by Art in his basement factory. I wanted it but after bidding went past $300 I dropped out. I can't remember what it sold for but I hope the buyer has enjoyed it - and now wish I'd kept bidding!
Another example - transformers. The auctioneer started by selling off the largest ones, some of which were still in crates and cartons bearing names like Thordarson and UTC. Those went for good money, but good auctioneers know when it's time to shift gears, so the next batch was sold as "choice" - anyone willing to pay the bid price could take any one transformer from the table. But when the interest level dropped further, he said "OK, we're gonna sell ALL that are left for one money". The amount of iron in question covered all of one 6 ft banquet table and part of another - and I ended up paying $9 for the lot. I've still got most of them but it's nice to be able to dig thru the boxes and generally come up with whatever sort of transformer or choke I need. (Of course there are quite a few that I'll never need :-))
There wasn't a lot of ham gear but one item had my attention from the minute I saw it: the desktop part of a Johnson "Five Hundred" (often abbreviated by hams to "500") transmitter. I knew they were rare and desireable from reading Electric Radio articles, but I also knew the modulator-power supply was separate and it was nowhere to be seen. Having stationed myself nearby I overheard a number of comments from hams bemoaning that fact, and how they would have been all over it if the transmitter had been complete. But I was undeterred, after all we can build such things!
The 500 finally came up for auction and I did not hesitate to bid. Minutes later I was the proud owner - for a total sum of $65! I was thrilled...
But then it dawned on me that I didn't have the kind of high voltage transformers and chokes and mod iron that would be needed to make it work - those items had already been sold! But as I looked around there were a couple of large old chassis with big iron attached sitting on the floor, unnoticed by most because they were dirty, too heavy to lift, and one had a cobbled-up yellow outdoor extension cord coming out and wrapped around it, along with empty tube sockets. They looked like some kind of derelict homebrew project but they were the only "big iron" left so I ended up buying both for $2.00. I hoped at least they would provide some raw material to work with.
After the auction, my brother-in-law and I were loading up my heavy treasure and he remarked "Hey they should put handles on all of these things!" as he lifted one of my $2 bargains into the truck. About halfway home something triggered a memory -- where had I read or seen a chassis with handles like that before?
Those who are familiar with the Johnson 500 know the answer - by total luck I'd purchased the Johnson power supply-modulator chassis, such as it was! It would have been obvious to everyone if the top cover had been present, but in this case it's loss probably kept the bid price out of the stratosphere. Now I wonder - why DID EFJ put those handles on that heavy chassis anyway? It's not like anyone is going to pick up that 100+ pound chassis and lift it off of the floor, is it? But I'm glad they did because before I realized what it was, I was planning to strip it down to bare metal!
I soon came to realize that the cobbled wiring, dirt, and substitute transformers were easily cleaned up, and was relieved to find that the original multi-winding power transformer, which would be difficult and expensive to duplicate, was intact and in good shape - going to solid-state rectifiers has removed some load from it so hopefully that will remain the case. The missing 866 rectifier tubes were eliminated in my restoration in favor of solid state ones, new 811As, filter caps, and equalizing resistors were installed, and after a general overhaul the 500 was making power again. It took longer to run down the needed connectors and make up the interconnecting harness than anything! I took special care with the HV wiring, using newly ordered 25KV wire and an RG-8 shield sleeve for safety, as full modulated HV would be carried between those Johnson pin plugs. But, being the designer of both connectors and transmitter, I trusted that EFJ knew what it was doing.
The good news is, while showing some signs of use, the 500 RF unit worked perfectly. The only thing needed was a new fan, which came right off the shelf at the home improvement store. What a nice transmitter! Now I could see why those ER writers were so impressed.
Then one day as I was testing the modulator, a funny noise was heard, and the HV disappeared as the power supply swinging choke went open circuit. Aside from the power transformer it was the last remaining original iron - the mod and plate transformers had already been replaced. I found the perfect replacement on eBay, the only problem was it was a little to big. Well since I didn't have the top cover anyway and was planning to make one out of sheet metal, I just bolted on some 1/2" square stock to enlarge the chassis enough to accommodate the massive new choke. It may look funny but I'm confident the new choke will hold up at least as long as the original did.
The Five Hundred has been completely reliable since, with the exception of an intermittent filament in one 811A. But there was just one problem: the substitute power transformer had a 3750 volt CT secondary which delivered several hundred volts less than the original, even with solid-state rectifiers. As the result the power output was just over 200 watts. I had what might be the world's only Johnson Four Hundred!
Sharing my basement radio room with cats, I couldn't use the transmitter until I made the power supply safe, so I drew up sketches of a sheet metal box for the power supply but didn't know what to do to provide protection for the barrier strip terminals and the HV plugs. Then one day it dawned on me that I was sitting right next to the perfect solution!
Back in the 70's and 80's, my former employer here in Freeport IL, the Micro Switch division of Honeywell, was the worlds largest manufacturer of computer keyboards. And in the factory there were about 40 "KB-TS" or "keyboard test systems" which performed final testing (ironically made in an automation and test group I would later come to manage). After the IBM PC ended up making all keyboards the same and cheap, that business ended up moving to Mexico and then finally sold off, but one KB-TS survived and ended up at the company surplus store. A 4 ft. wide desk with a 19" rack poking up out of the top wasn't in great demand but I thought it would be great for radios. The rack was later separated and used elsewhere, but there was another equipment mounting area under the desk where drawers would normally be, and I realized with a little work that space could be the ideal spot for the 500 modulator-power supply. It would be easy to add a fold-down door that the heavy chassis could be slid in and out from and a wire mesh door would allow visual inspection of the modulator in operation, something the metal cabinet didn't do. Not only was the desk an easier solution than making a metal cover would have been, but it was a better solution because it provided safe protectoin for all the exposed terminals and connections. Soon I was sitting at what might be the world's only "Johnson Four Hundred Desk"!
The final chapter was just written in late 2021. At the Belvidere Hamfest I was chatting with radio buds Lou W9LRS and Rob K5UJ when I spotted a large plate transformer on the table. It had the 115VAC primary I needed and while I couldn't remember what voltage the 500 required, Rob offered it at a price that made for a quick sale and Lou confirmed that the transformer would run a Johnson 500 - because it once resided in one of his! In January of 2022 I installed the new transformer which not only had the perfect secondary voltage (4250 CT) but even the mounting holes were the same! The increased HV brought the output power right up to 300 watts with the recommended 300mA plate current.
I now have what might be the world's only "Johnson Five Hundred Desk"!
I don't know much about WØGLS but he was obviously a builder and when the 500 conked out, in true ham spirit he just turned to his ample stash of iron for replacements. Based on some scribbled markings on the rear panel of the RF unit, he apparently used it as an SSB amplifier, which suggests that he kept up with new technology. I can't remember other commercial gear that was at the auction but he seemed to be the kind of ham who mostly built his own gear, so to have laid out the cash for a commercial transmitter says he must have thought highly of the Johnson Five Hundred. I'm happy to give it a new home, and to finally have it back to full operating condition.