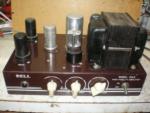 What more does one need to hear good audio?
Posted By: Robert Nickels (ranickels)
The first audio amplififer I made (that worked) used a single 6V6 to amplify the output of a regenerative receiver. Ever since they've been my idea of what a good audio tube should be and with a big speaker mounted on a piece of plywood, a 6V6 will produce "room filling volume" as the magazine articles fo the day said. But as my music tastes grew acoustic-suspension speakers and a solid-state amplifier capble of driving them took center stage.
But as is often the case, returning to our roots can be fun, as was the case when I restored a little hi-fi amp using not one but a pair of 6V6s - the model 2122 made by Bell Sound of Columbus OH. After cleaning and recapping it sounded great, but would not make a good mate for inefficient speakers, but another trip into the storage are solved that. A $5 flea-market find, a Knight KN-800 12" coaxial speaker mounted on a piece of plywood that might have once been mounted in someone's rec-room wall, as was the custom at the time. Allied Radio sold their own linke of speakers with the Knight brand (online rumors suggest they were made by Jensen) as a lower-cost alternative, but they were good speakers and quite popular. The KN-800 sold for $45 ($370 in today's dollarettes) and the Bell 2122 went for around $55, so an Eisenhower-era audiophile would have close to a grand invested in his modest 10 watt system. But 10 watts is plenty of power to drive an efficient speaker, and while my KN-800 sounded a little thin by itself, I found that it fit underneath one of my benches like it was made for the space, and the additional air volume behind it produced a nice improvement in the bass response.
Knight called this speaker the "Best fat the Price!" and I can't disagree. Now you can't go buy a Knight kit from Allied but you can buy them on eBay for under $100, and one of the versions of the Bell 2122 for about the same amount, so it's pretty affordable to take a stroll down memory lane, listening to "historic mono" on a pair of 6V6s!