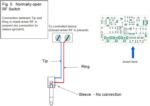 Posted By: Robert Nickels (ranickels)
The muting relay on the VERSA-TR can be used to control other devices when RF is present. An example would be an "On The Air" sign, or to key an amplifier. One specially-wired cable is required - note that no connection is made to the sleeve, which is usually the ground connection on a TRS plug. A normally-open set of relay contacts exists between the tip and ring terminals of a plug inserted in the connector on the VERSA-TR where the powered speakers would normally be.
These contacts are for switching low current logic level signals ONLY! Never apply 120VAC or try to control a high current relay directly, as it will be unsafe and will damage the VERSA-TR board. Instead use a slave relay which draws low current (1/2 A or less) that is controlled by the VERSA-TR contacts. A solid state relay is a good choice, and of course the contact can be attached directly to the input of a microcontroller, Arduino, etc.
The VERSA-TR can be used as an RF sensing relay like this even if the antenna switching is not needed. Instead of a transmitter, solder an RCA connector to a length of wire which will act as an antenna, insert it into the "Transmitter" connector, and use the 100pF coupling capacitor for maximum sensitivity. It will be necessary to locate the pick-up wire close to the RF source Often there is enough leakage around cabinet openings to provide enough RF for sensing. Be very cautious to make sure that the antenna wire cannot come in contact with high voltage or RF circuitry. Experimentation will be required because the RF level will vary by band and with transmitter power.