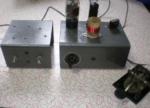 Classic circuit with some modern twists
Posted By: Robert Nickels (ranickels)
There's a good chance that more homebrew ham transmitters have been built using a 6L6 than any other tube, and when combined with the superior performance of the 6AG7 oscillator, it's a hard combination to beat (click here for an explanation of the 6AG7's benefits)
I'll be adding more info about this project soon, but one of my goals was to reproduce what was a budget-friendly transmitter in the old days with parts that are available today. One way to push the cost of any homebrew tube project into triple-digits is to use a new power transformer and choke. Back in the middle of the previous century that was the only way to obtain high voltage safely of course, and inexpensive surplus and a range of "iron" from several major manufacturers that supplied the mainstream radio and TV industry kept prices down even for one-off hobby projects. Today, those manufacturers are most all gone, and those who remain must charge 21st century prices due to today's volumes and costs.
Fortunately modern switchmode technology provides alternatives that not only work well (better, in fact) but actually cost a fraction of what the equivalent functionality did "back in the day". I'll expand on this in a future article, but the basic building blocks are:
1. An LM-2586-based boost-buck DC-DC converter. These modules take any voltage 4V ~ 35V in and provide an adjustable output voltage of 1.23V ~ 30V at a maximum current of 3A. They do so with 92% efficiency and cost $1, proving my contention that high efficiency power conversion is truly one of the wonders of the modern age. This module converts 12 VDC from an AC power supply or battery to the 6.3V needed for the tube filaments
2. Another switching DC-DC boost converter to produce up to 390VDC for the B+ from 12 VDC input. These are commonly referred to as "ZVS" for zero voltage switching converters and use an LT-1243 controller and MOSFET to achieve 88% efficiency. While advertised as 40 watt modules, the output voltage does drop off at higher current levels, however they are very usable for tube circuits requiring up to 100mA or so. More on this later.
A number of advantages flow from the modern approach, aside for cost:
1. Filament and B+ is derived from a single 12 volt source. This can be a linear or switching power supply (very inexpensive) and since efficiency is high (typically 90%) only a few amps are required. This also makes it easy to operate devices from a portable or car battery.
2. Safety is improved because the high voltage is only present when enabled. In a transmitter, this occurs when the PTT is keyed or in transmit mode, so there is less chance of accidental contact with HV and because storage capacitors are smaller at the high switching frequency, less energy is stored after power is switched off.
3. Weight is far less than with conventional transformers and chokes. High efficiency also reduces heat.
4. The output is regulated. This can be done with conventional transformer supplies of course, but at the cost of added weight, size, cost, and complexity. Regulation comes free as it's inherent in the SMPS design.
5. The output voltage is easily adjusted to any desired voltage from 50 to 390 VDC.
6. Filaments operate on DC rather than AC which eliminates any concerns with AC hum pickup.
7. Switching is simplified because is is never necessary to switch the high voltage with the potential for arcing, all that's needed is to switch the 12V input voltage, or in some cases, use an Enable pin. Either way, the SMPS is much easier to integrate with a microcontroller, if that is desired.
Yes, there are drawbacks - or at least one: RFI/EMI. The switching frequencies are typically in the 50-300 kHz range (150kHz for the filament and 75 kHz for the HV modules referenced here). Switching transients can appear on the output and external filtering may be required to completely eliminate them. I typically view the module no differently than any other noise source, all I want is pure DC coming out so a LPF with a low cutoff will do the job. Remember that EMI can be conducted along power lines as well as radiated, so attention may need to be given to shielding as well as bypassing. The only way to gain familiarity with the characteristics of these devices around radio equipment is to experiment with them. It's worth bearing in mind that similar SMPS are used in many vacuum tube audio preamps and the like where noise would be very apparent, so it can be mitigated successfully. In my case there wasn't a noticeable issue in my initial testing. Becoming competent in EMI/RFI mitigation is unfortunately one of the skills needed to play with radios in today's electrical environment where we (hams) are much more likely to experience interference from other devices than to be the cause of it, as in the old days!