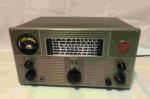 Speculation about a mystery receiver
Posted By: Robert Nickels (ranickels)
The Harvey-Wells Company was formed through a partnership between Clifford Harvey W1RF, and John Wells W1ZD in 1939. Cliff Harvey had earlier founded Harvey Radio Labs in 1933, and prior to that, he was associated with the Hendricks and Harvey Company, another partnership. Producing police radios, transceivers, transmitters, and crystals. Their most popular product was the TBS-50 transmitter introduced in 1947, covering the 80 through 2 meter bands. In 1948, a three tube audio preamp was included, carrying the TBS-50 A model number. The company operated out of the former Central Mills building in Southbridge MA which resulted in significant business disruption from flooding from the adjacent Quinebaug River. A great deal of history of the company and it's principals can be found at this website, created by family friend, Dick Whitney, whose father was a ham, and close friend of Cliff Harvey.
By 1957, it was pretty much all over for Harvey Wells as far as radio is concerned. The company had been sold to Within Machine Works and Cliff Harvey turned to radio station ownership for a time. Harvey-Wells had nothing to offer the market place for single sideband and like many other companies from the AM era, faded into history. The "twins" - T-90 transmitter, R-9A receiver, and Z-match tuner were the last ham products made, and even today Harvey-Wells is best known for the TBS-50 that were very popular in the post-war years.
The basic design of the R-9 receiver was straightforward 10-tube double-conversion superhet tuing 540 kHz to 32 MHz in six bands. A BFO was provided for CW/SSB use as well as a noise limiter and AVC. The general design is the same as the R-9A ham band receiver which was a redesign of the R-9 that moved most of the components onto a PC board vs. hardwired as in the R-9. But unlike either, the multipin connector on the rear panel used for muting and other connections was eliminated and the RG-9A was equipped with a switch for operation on either 115 or 230VAC mains. The R-9(A) receiver was sold in the 1955-58 timeframe and closed-out for $90 in 1958. According to a former employee, an engineer named Al Da'Amato who held a W1 call (unknown) was the designer of the R-9, T-90, and Z-match. The oddball RG-9A general coverage version was apparently a customized R-9A for RCA. The RCA manual describes it as being suitable for "amateurs, non-commercial point-to-point services, general monitoring purposes, and public address systems. In addition to the 8 ohm speaker jack, it is noted that the phone jack provides a line level suitable for the latter purpose. Public address systems were among the myriad items sold by RCA.
So that's the "what", "when" and "who", the "why" is harder!
The Harvey Wells factory in Southbridge MA was flooded two successive years in the mid-50s when it's likely the ham business was contributing little to the company's profitability but was a championed by Mr. Harvey and Mr. Wells, both well known hams. After the floods it constituted more inventory that had to be cleaned up and salvaged as described by former employees who were awarded a set of flood-damaged twins as payment for their efforts. The company continue to pursue government contracts after dedicating it's production capacity to the war effort, and was a subcontractor to the "Route 128 companies" that sprung up in the Boston area and the electronics and defense industries boomed. One example is the AM-1415/UNS-1 audio amplifier that was part of an air-raid alert system built by Harvey-Wells. It used with an outdoor-mounted microphone to pick up the sound of approaching aircraft and trigger an alarm when audio of a certain frequency range that corresponded to aircraft engine noise was picked up. It was just a small contract that the company won, and which helped keep the doors open. Since the glory days of AM had brought success with the Bandmaster, it's easy to see why the company principals were willing to fund the development of a new line of compact and attractive AM/CW radios.
In that timeframe, RCA was of course huge in all aspects of radio, television, test equipment, broadcast equipment and more, but the company hadn't made a shortwave receiver since the war, and the AR-8516 Radiomarine set didn't come along until 1962. Yet, shortwave broadcasting was going gangbusters and it was also the beginning of the space race which put even more emphasis on electronics and communications. So my best theory is that either someone at RCA got the bright idea to offer a shortwave receiver for sale, or more likely IMHO, someone at Harvey Wells thought hey, it wouldn't take much to convert the R-9A to general coverage, and approached RCA as the leader in everything-except-shortwave with the idea of private labeling it for them.
According to Osterman's book the RG-9A never made it into actual production, which would explain why these receivers are pretty scarce. There would typically have been a small run of maybe as few as 25 or as many as 100 because it would have been prohibitively expensive to buy small quantities of the custom items like cabinets, dial glasses, etc. It was "RCA-ified" by adding the RCA meatball and knobs and simplified by eliminating the rear panel connector and putting an AC line voltage selector in it's place so the receiver would be saleable outside the US. Given the financial losses of the floods and ups and downs of government contracting, to H-W the idea of turning a low-selling ham receiver into a custom product for the worlds largest electronics company certainly would have been understandable.
But why would RCA want such a thing? What market(s) would it sell it to? It wasn't a communications receiver and could not compete with professional grade receivers, so buyers would have to be those interested in casual SWLing or monitoring. That would include individual hams and SWLs, but they already had plenty of choices from Hallicrafters, National, Hammarlund, and the rest, and RCA would have had to convince the distributors that handled their tubes and other components to stock yet another general coverage receiver. Besides, after Harvey-Wells and RCA made a profit on it, there wouldn't have been enough left to appeal to a distributor anyway at a price the market would bear. And even in the late '50s, the single sideband train was picking up steam, and the RG-9A would be a poor performer for SSB. RCA did assign an "MI" number to the RG-9A, MI-590237, but other MI numbers in the 1955 and 58 RCA catalogs which were 5 digits, not 6, so maybe this was a sign that it wasn't yet an official product. In any event, while RCA would sell everything from the broadcast transmitter down to the chairs the audience would sit in in, there was no catalog entry for a general coverage shortwave receiver. It's worth noting that the RG-9A bears the official round RCA corporate logo aka "meatball", not the expanded version used to identify the Radiomarine Corp. of America (RMCA), a subsidiary which obtained the marine radio assets of RCA in 1928. So while we might see a connection with the RMCA marine markets, RCA did not intend to brand it for sale that way. Their actual intent remains a mystery.
My conclusion - based on logic and guesswork - is that the RG-9A was a calculated gamble that could have leveraged Harvey-Well's sunk-cost in the poor-selling R-9A receiver and RCA's market presence as a quick way to generate sales to the general public as a general coverage shortwave receiver at a low price. It could have become an accessory for RCA's PA systems and as a general monitoring receiver for various communications users. Unfortunately it doesn't seem to have been the right product at the right time, and RCA probably was not the right partner, most likely deciding the investment required to establish a distribution channel and commit to an initial production run would not be worth the effort.
RG-9A aka MI-590237 receivers DO exist, queries turn up periodically on the various radio forums, usually asking for help or information. A partial manual is available on BAMA, so while it may have never actually gone into production, it would seem that more than a handful of prototypes were built. I think it is a very attractive receiver and well worth acquiring should one come your way - click the "high resolution" image below to see what a pretty receiver it is.
A couple of interesting questions come to mind:
- Was there a Harvey-Wells branded version of the RG-9A? All the references mention the RCA MI-590237 model, not a H-W designation.
- Might there have been some intention for the RG-9A to be used alongside the TS-90 transmitter? This is an uncommon variant of the Harvey-Wells T-90 amateur transmitter but with continuous coverage from 2-12 MHz, AM and CW. Again, little has become known about the company's reason for creating the TS-90, but it's logical to assume that it was aimed at MARS, CAP, and commercial users of the HF spectrum, who would also need a receiver. But as noted earlier, the RG-9A isn't really a communications receiver, lacking bandspread tuning or crystal control provisions for use by unskilled operators. The TS-90 could be crystal-controlled however so the RG-9A could be spotted to it, but no provision for muting is provided. (This pairing is my intent however, for ham band AM operation).
- According to internet Harvey-Wells information, in 1957, Harvey-Wells was acquired by a company called "Within Machine Works" which appears to have been in business making textile machinery sinci 1831. However a typo crept into those internet pages, as the actual company name is "Whitin", not "Within", and was such a force in the textile industry that the company town of Whitinsville grew up around it, and even today remains as an unincorporated village of 6700 residents. At least one book as been written on the Whitin family and their business and it would be interesting to know if any mention of Harvey-Wells is made in it. There's also a repository at the Baker Library Special Collections of Harvard Business School containing 308 boxes of Whitin company historical documents if anyone feels up to doing a bit of research ;-)
- How many amatur radio equipment manufacturers went out of business as a result of SSB? Certainly Harvey-Wells would be on name on that list.