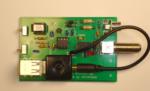 introducing hams to SDR
Posted By: Robert Nickels (ranickels)
I became aware of a few hams playing with a thing designed to receive digital TV in Europe on your laptop - a little plug-in dongle that used an RTL-2832 IC and sold for $20 or so. Some clever fellows had determined that it could be put into "radio mode" in which it would generate an IQ stream over USB, and by writing to control registers in the tuner IC, it could be used as a receiver from 24 to over 1000 MHz. This was truly "ultra cheap SDR"! The nearest equivalent was the Funcube Dongle which sold for over $100.
Of course I had to try this, and almost instantly realized that with a simple converter its tuning range could be extended to the HF spectrum. This would require an UP-converter rather than the more common downconverter that moved UHF or microwave signals down, but the principle was the same. The design was based on the well proven NE-602 mixer IC. Since I wasn't sure a tuned input would be needed I tried it without one, and the results were great! I later designed a simple low-pass filter to remove FM radio signals and which also attenuated the strong BC band signals a bit.
The biggest problem was the local oscillator. I started with crystals but found them too fussy to keep oscillating, and while packaged oscillators were available in the frequency needed, through-hole parts were already obsolete and only surface mount versions were being offered. So that's what was used in the original converter that was featured in my Jan. 2013 QST article, and despite it being a leadless package, most builders were able to get it soldered down to the PC board. Before long I found a through-hole programmable oscillator made by Epson that worked just fine and eliminated the SMT soldering hassle. I also redesigned the PCB to make it easier to connect, with a single USB cable provide power to both the dongle and the upconverter. Hundreds of kits were sold and are still in use! I use one all the time on my workbench for monitoring signals, measuring modulation characteristics, etc. The nice thing is, if you blow one up you're only out a dollar or so for a new 602 and you haven't risked damaging an expensive SDR receiver.
Thanks to all who bought kits and kept me on my toes finding answers to questions! I know I learned a lot and hopefully the RANVerter put others on the same track toward more sophisticated SDRs and greater understanding of SDR technology.