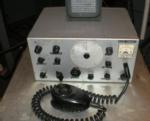 A three-band self-contained SSB rig
Posted By: Robert Nickels (ranickels)
Ernie Mason, W6IQY, of San Diego CA was a prolific designer and builder of SSB equipment over many years. Mostly self-taught in electronics through his ham radio experience, Ernie began working in IBM's Field Engineering organization where he rose into the management ranks, but defying the odds, was able to stay in at his adopted San Diego home town. He lived a few miles away from his good friend Ed Marriner W6BLZ who wrote hundreds of articles for the various ham magazines in the 1950s through the 1970s and he documented one of Ernie's creations, a 40 meter SSB transceiver made from a BC-453. I wish I had one ! It was a complex project that began by stripping all the components from the command set chassis!
The transceiver shown here is a later creation, probably from the mid-60s based on the fact that he used a McCoy 9MHz crystal filter which became available in that timeframe. (It is serial number 15, which suggests he was either an earlybird buyer or maybe received it as a sample). This transceiver iscompletely self contained with a built in power supply, measureing 11" wide, 8 1/2" deep and 5 1/2" high. It is almost exactly the size of an AF-67 transmitter, as a point of comparison, although the cabinet is not the same.
It is a three band rig, 80, 40 and 20M, as was popular during the first half of the 1960s when sunspots were low and the money saved helped make SSB more affordable. It has a fifteen tube lineup with two 6HF5 finals and the 7360 balanced modulator - all diodes in the power supply are solid state.

What is especially interesting about this rig is that the main tuning capacitor is from an ARC-5 transmitter. Ernie made a new dial plate of aluminum flat stock yet achieved a perfect mechanical fit of the capacitor into the chassis and front panel which results in slow tuning with zero backlash. It's smoother and has better bandspread than any commercial transceiver of the time. Ernie also used two adjustable multi-turn inductors for the receiver and transmitter peaking controls. I've never seen these components before but suspect he used them to help simplify the bandswitching. The VFO operates in the 2.5 Mhz range and is doubled to achieve a 5 MHz output that then is mixed with the 9MHz SSB signal to create output on 20 meters (sum) or 75 meters (difference). For 40 meters the VFO is shifted down to the 1.8 MHz range which then mixes with the 9 MHz to create a 40 meter output. Note the use of a right-angle drive to accomplish the bandswitching and shielding for stable operation. Another interesting feature is the use of an IBM "wire contact" relay. Obviously, Ernie got this from his work, but the neat thing is that each individual contact can be removed and replaced without disturbing the rest of the relay.
After initial check out the power supply can capacitor failed, not surprising since this radio probably hadn't had power applied in over 40 years. The empty space above the chassis was used for replacements, but otherwise the transceiver came up receiving signals and had output. I've since replaced the PA tubes and am seeing about 60 watts output on 75 meters and more on the other bands. The PA tank circuit covers only about the top half of the 75 meter band but that's sufficient for an SSB radio. I've been careful to not go trying to "improve" things since there is no documentation or even a schematic for this transceiver. Everything I do has to be reverse-engineered, but what fun it is!
I'll have more to say about Ernie and another transceiver he built later but I was proud to be able to not only own and restore this unit, but to put it on the air. Appropriately it made it's 21st century debut on the Vintage Sideband Net on 3842 Khz on Febr. 8, 2020, with net control N9TBE.
73, Bob W9RAN