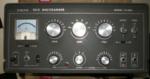 A time capsule from JA-land
Posted By: Robert Nickels (ranickels)
All who operate AM in the midwest know and probably have talked to Masa, AB9MQ, who is a very active AM operator. Having become interested in ham radio while still living in Japan in the early 1960s, Masa's memories of the "dream rigs" is a bit differen than most US hams, and because the markets were still quite regional at the time, much of the ham gear that was offered to Japanese amateurs was not exported to the US, so most US hams have never seen even pictures of it before. The notable exceptions are the receivers made by Trio Corp. that were imported to the US by Lafayette Radio and sold in both assembled and kit form. The most common ones were the Lafayette HE-10 (KT-200 in kit form), HE-30 (KT-320 in kit form), and the HA-350.

Those model numbers would have meant nothing to a Japanese ham, but he would have instantly recognized them as the Trio 9R4J, 9R59, and JR-300S which were popular in Japan!
In addition to receivers, the Trio Company made transmitters. I'll write more about this at a later time but for now, suffice it to say the TX-88A Multibander was the companion to the 9R59 (Lafayette HE-30) and after Masa obtained one I thought it was a great looking transmitter and one that would be neat to own. But even today most ham gear that was intended for the domestic market stays in Japan, although thanks to eBay, that is changing. And that is how I was able to obtain a very nice TX-88A transmitter which can be seen in the photos below.
Again, I'll be adding more to this article as I learn more and as I pull key information out of the original manual that came with the transmitter but is printed in Japanese, naturally. The images here do no due justice to this transmitter - it is truly "mint" in appearance with no scuffs, scratches, or even signs of having been used. It arrived in a plastic dust cover and I suspect it has spent most of the past 50 years underneath it.
Enjoy looking at what I consider to be a time capsule of ham radio from another time and another place.