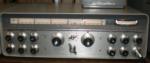 A glimpse of the future from 1957
Posted By: Robert Nickels (ranickels)
Like most hams, I remembered seeing the FPM-200 at an astronomical price in the 1962 Allied Radio catalog and wondering just how rich would a person have to be to own one? For my 11 year old self, such things may as well have been on another planet, but well...things change.
I'd seen only one FPM-200 sold (to a guy ahead of me at a hamfest) and in the pre-eBay era most rare radios like it were sold through the 'buddy system'. But the internet was a great tool for broadening the market access for those looking for rare and unusual items, which is how I became aware of an FPM-200 for sale in the Chicago area sometime in the 1990s. Actually - two of them, but the 2nd was a "parts unit", which as it turned out would have described both since the better unit didn't do more than light up the lamps and make white noise. I even knew the seller, Jack KØEWU (SK) so I wasted no time closing the deal and arranging for a trip to his Palatine IL home. The price? About what hams were paying for a Collins S-Line at the time - Jack was a Hallicrafters expert and knew these were rare and worth some money but he also knew they needed troubleshooing and repair.and wanted them to go to someone would would not just flip them for a profit but who would restore and use the radio. He kinda knew me from area hamfests but in fact gave me a little "audition" before the transaction was completed, going over some problems with a National receiver he was working on and having me replace a couple of caps. I passed the test ;-) And Jack admitted he was willing to cancel the sale if I turned out to be the kind of buyer he was determined to avoid. I felt it was a fair precaution and enjoyed meeting Jack who became a good friend over the years.
I was working a demanding job and it took a few months to wade through each module and get the transceiver working. Most of them worked perfectly with the usual electrolytic caps and drifted resistors to deal with. In fact the most challenging was the "stepping amplifier" which was Hallicrafters term for the variable gain IF amplfier used in the transmit and receive paths. Like most restorers I was skeptical of the germanium PNP transistors that were largely used, but that wasn't the problem. Each "step" or band used resistors to set the gain, and several had drifted so far that there was virtually no output. It was a great feeling to bring the FPM-200 to life in what was no doubt decades.
The story gets better! At a small hamfest that used to be held at a community college in the west 'burbs, a box truck from "Attic and Basement Cleaners" pulled in and started unloading boxes. "Ten bucks a box!" the seller said, so naturally a feeding frenzy ensued with bargain hunting hams digging through the contents of boxes. Knowing what an FPM-200 looked like inside was my secret weapon, and as soon as I saw box after box of parts and subassemblies, I started making a pile. The best anyone who knew about the fate of Hallicrafters could determine, this was the estate of one of the former employees who had ended up with, among other stuff, the residual contents of what was once the FPM-200 assembly line. Some of the items were marked "QC Sample" or had inspection tags with handwritten comments by engineers and technicians. To me, this is a valuable part of ham radio history and I am thrilled to have saved it from the dumpster or from being disseminated for reuse by those who wouldn't have known the history.
In 2016, I was asked to make a presentation on the FPM-200 for the Wes Schum W9DYV Technical Symposium at Jonesborough TN. A video of that presentation can be found here: VIDEO
All the slides from that presentation can also be viewed as a slideshow below - just sit back and watch my interpretation of the FPM-200. I'll be adding more detailed photos of the insides of the FPM-200 on the Gallery pages in the near future. But here is the FPM-200 story as best I know how to tell it, since no one who was involved in the company is still around to tell it. Why did the undisputed king of shortwave radio and a major radio/tv manufcturerer invest so much into a ham product that was clearly priced beyond reach of all but the wealthiest hams? My conclusion was - to show that they could design and build equipment that met the requirements of the military and exploding aerospace markets, driven by the Space Race. If so, the strategy was successful, as instead of fading away as many competitors did, Bill Halligan's company became part of Northrop Corp., a major US defense contractor, who even stayed in the radio business long enough for its namesake successor, the FPM-300 to be produced.
Know something about the FPM-200 that you can add to this story? Please get in touch! 73, Bob W9RAN