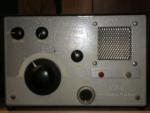 and not just for CB!
Posted By: Robert Nickels (ranickels)

International Crystal Company of Oklahoma City was certainly best known for its crystals but the company was also a not-insignificant player in the CB radio manufacturing business, and also had a pretty extensive line of experimenter kits. The kits typically had one to three tubes on a PC board and provided a single function, such as an RF amplifier, or transmitter, although some were complete converters or IF strips. No doubt many hams and builders incorporated these modules into their homebrew projects - I remember building a converter for 2 meters using an RF amp, Mixer, and Oscillator module from the solid-state "OX" Series in the early 70s. Because they were professionally designed and used PC board construction the result was more professional-looking that most ham homebrew projects.
But ICM also used these modules to make some of it's own CB radios, and created new ones just for that purpose. The ICM CBs followed the same template, with heavy discrete components like the power transformer, relay, and filter mounted to one side of the chassis and the modules making up the receiver, transmitter, and audio section mounted on the side of a vertical partition. The KB-1 is a case i point, as it was offered specifically for "kit fans" who could buy the complete kit for $90 for 115VAC power or $98 with the 6/12/115V power supply option. Or they could buy the individual modules and mount them in their own chassis - or in the metal cabinet that was offered separately for $20.
Of course most ICM kits required crystals - and not by accident!
I have a fondness for old CBs and picked up a KB-1 at some hamfest, and noted that it had a ham call on the front panel. No big deal because many hams also used CB, but thought it was a bit odd that he didn't put his CB call letters there - until I looked inside. To my surprise, this KB-1 was on six meters! There's no mention of this in the catalog so I suspect the builder modified the tuned circuits himself and purchased the three crystals after doing a factory-looking modification to add a 3-position crystal switch. The sharp-eyed will also notice that the lever-type T/R switch is gone, replaced by a PTT relay and a nice "goof plate" with Transmit and Receive indicators has been put in it's place on the front panel. Two very nicely done and useful modifications, in addition to moving the KB-1 up to the "magic band". This rig would have put out about the same power (2-3 watts) as a Heathkit Sixer but with PTT and a superhet receiver with squelch, it would have been a much better radio.
I can't find a date in the catalog where the KB-1 and tube-type modules are featured but it was between 1962 and 1964, based on the CB models that were featured and the years they were introduced.