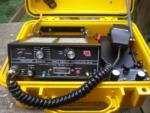 last gasp from Swan/Atlas founder Herb Johnson
Posted By: Robert Nickels (ranickels)
Most hams are aware that Herb Johnson W6QKI founded Swan in Benson Arizona to make single-band SSB transceivers and then moved his operation to Oceanside CA where Swan thrived throughout the 1960s. Swan merged with Cubic Corporation in 1967, and Johnson managed Swan as its subsidiary until 1973. Johnson founded Atlas Radio in 1974, with the assistance of Southcom International founder Les Earnshaw ZL1AAX. But what happened next? Not much is know, but we do know he spearheaded the development of one more SSB project - the Vector VR-50. Who actually designed and built it is unknown, but do know that Herb liked names that had significance to him, which is why Swan was named for his father, Sven, and Atlas was chosen as it was the name of the diesel engine in the 1924 motor boat skippered by his friend Don Gumpertz, K6OF.
Herb was an avid sailor, skippering a series of boats (all named Vector) in numerous long-distance races along the coast of California and Mexico. He was a longtime member of several San Diego yacht clubs and continued sailing, well into his seventies, So given his history with small solid-state portable SSB transceivers and the many explorers and adventurers who used Atlas radios, combined with his love of sailing it's not surprising that he named his last radio venture the Vector VR-50.
The amount of documentation avaialble on the VR-50 is minimal and doesn't (yet?) include a schematic, but it's designed to be easy to use and the existing units that have surfaced have been similarily configured, so were probably part of the same (one and only) production run.
The RT unit is very small but the resemblance to a down-sized Atlas is unmistakeable. It is rated for 50 watts PEP output and covers from 1.8 to 17 MHz continuous, based on which crystals are installed. The radio has a split personality: with the selector in the "HAM" position the channel switch provides up to 12 channels in the 160, 80, 40, and 20 meter bands with a VXO that provides 12 kHz spread on each channel. The photos below show the frequencies installed in my VR-50. Other than opening it up for photos I haven't done anything with the radio. One experiement I'd like to try is to see if an 17 meter signal can make it through the filters. I suspect it can but of course the WARC bands were not envisioned at the time it was designed. I'm sure 60 meters would be usable by selecting the 40 meter BPF once it's determined how that's done.
In the AUX position, up to 12 marine HF SSB channels may be selected. In this case the VXO range is greatly reduced so it acts as a "clarifier" iin the receive mode only to comply with FCC regulations. I'm sure the frequencies installed were what a sailor in the San Diego area in the mid 1960s would have used.
But the real interesting thing about the VR-50 is the way it's packaged. The compact RT unit mounts to a hinged plate that folds flat for storage inside the Pelican-type waterproof case, or can be raised and locked into position for use where the controls are easily accessible. Power is provided by a 12 volt gelcell which is continually charged by a solar panel mounted the the case lid. Just pop the case up and a simple spring mechanism snaps into place to hold the lid at a good angle for catching sunlight. The company said that a day of sunshine would provide enough power for 2 hours of operation, based on 1/3 transmit, 2/3 receive duty cycle. It can also be recharged from a 12 volt source.
Rounding out the complete package is a cut-down AT-271 whip antenna that attaches to a mount on the case and a manual antenna tuner that uses the meter in the radio for tuning. The whip sections have been shortened so they could be stored diagonally inside the lid of the case, which also houses a speaker. The whole package is very compact and well thought-out - you get the impression it was meant to be used in marine environments where it would be packed-up and stowed after use, and could be the last thing you'd grab in the event you had to deploy the lifeboat! (The instructions note that "It floats!")
The only drawback is crystals nowadays. I've tested mine with an external digital synthesizer but since there's not a lot of room or desire on my part to hack the thing up, and since it's equipped with usable ham band crystals, I've just left it as-is. There's clearly room for modification if one desired. I can say it's worked well with typically good Swan/Atlas audio on transmit and receive and a very usable power level from a portable rig. Although gel cells aren't my first choice there are lots of alternatives today.
A handful of VR-50s are known to exist and more information or new owners are always welcome!