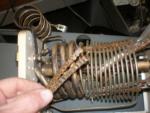 or similar Airdux-type coils
Posted By: Robert Nickels (ranickels)
The B&W 850 is a kilowatt-rated tank assembly that was used in the company's linear amplifiers and sold as a component for many years. Unfortunately most of the plastics available were not capable of surviving for 50-70 years and thus have deteriorated to the point they no longer support the coil turns properly and must be repaired. Here's a typical example from my newly-acquired LA-1000 linear:
Removing the pieces leaves a coil that is badly out of shape and a lesson on the dimensional stability that we take for granted with modern engineered plastics:
Fortunately it is fairly easy to restore these coils to normal function by making new coil supports. I used 3/8" Delrin because I had a suitable piece on hand, but other plastics with low absorption of RF energy should be OK.
The first step is to machine 13 or 14 grooves that will hold the coil wires in position. I used a 3/16" end mill since I have a milling machine but a table saw could be used with a blade that provides a suitable kerf. Care is needed to cut the grooves on .25" centers: