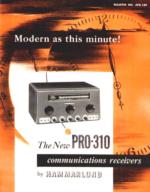 "mechanically, it's a nightmare..>"
Posted By: Robert Nickels (ranickels)
Having grown tired of seeing this rare and somewhat incredible receiver sitting on the shelf, unusable due to slipping dial belts, I bit the bullet and tore it apart to begin restoration. The quote above comes from Tom Rousseau K7PJT's article in Electric Radio on the PRO-310 and boy, is he spot on!
Since I will be depending heavily on what he and others have written about this receiver, this will be more of a collection of resources than anything original.
Most importantly, the write-up which was done by Grant Youngman NQ5T is avaialble for downloading in the "Attachements" section at the bottom of this page. Grant's interests have moved on and this document has become somewhat difficult to find since it was never published but was provided to those in need in pdf form. Thanks to Grant for making this information available and for coming up with a source of replacement dial belts.
The last known source for those belts was Mark Olson Nationwide Radio Contact Mark for more information.
Bob Sullivan WØYVA's restoration page and photos are HERE
More to come, hopefully.