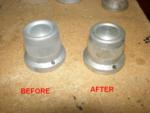 Bead blasting is the secret
Posted By: Robert Nickels (ranickels)
I've always thought that knurled aluminum knobs were a high-class option for radio gear, and while they are more durable than plastic they do accumulate tarnish, corrosion, and grunge from dirty fingers over the years and start to look poor. Fortunately it is easy to restore them to a new attractive appearance using a bead blaster.
Mine is a Harbor Freight floor-standing model that holds 40 pounds of media and costs under $200. Smaller benchtop units run a little more than half that, but be sure to check the airflow capacity requirements as they do take a big compressor. But nothing does a better job for cleaning small parts, removing rust and corrosion, old paint, etc. Car guys use even larger blast cabinets and have the best expertise in using them, as google will confirm. The basic problem with all of them is making sure the feed tube and gun are clear so the media can be picked up by suction created when you pull the trigger. Many suggestions and modifications have been posted but I get good results as long as the media is clump-free. That means I nearly aways have to dump it out, break up clumps with a tool similar to that used to stir buckets of drywall cement and filter the media through a sieve before putting it back in. This isn't necessary if you use the machine often enough to keep clumps from forming or have low humidity. But it's easy to do and the media returns to it's usable form instantly. Don't be confused into thinking this is a "sandblaster", you don't want sand anywhere near your cabinet! Nor should you use the cheap black stuff (which is coal dust) that's sold as sandblasting medium. For this kind of work you want fine or medium grade glass bead media, which will run from $30-50 for a 25 pound container. You might have to go to an industrial supply company to get it but it's the only thing to use.
Once equipped it's time to clean those aluminum knobs! I mount each on on a short 1/4" bolt that acts as a handle so I can rotate and aim the part under the blast gun. Inspect afterward and touch up any areas you may have missed. One common problem in all blast cabinets is limited visibilty because the media will coat the view window so while you can see what you're doing it's impossible to see details til you eyeball the part outside the cabinet. It goes quickly, maybe 30 sec. per knob.
The photos show how the grungy tarnished knobs come out with a new uniform matte finish. I first cleaned the knobs on my G-76 using this method in the 1990s and they still look perfect today.
The Morrow Twins will look great with their newly restored knobs! And the G-77 knobs will match those on the G-66 that I did some time ago.
The blast cabinet will get plenty of other use if you like to restore metal objects of any kind.