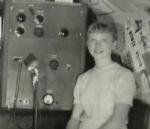 Bev Becker WØWDC
Posted By: Robert Nickels (ranickels)
This all started when I discovered a fantastic collection of vintage photo QSL cards on a Google+ site – I'd encourage every ham to spend some time looking through this amazing bit of history: https://plus.google.com/115747543308902188110
The photos capture a wide range of ham gear and stations from the spark era through the 70's, and nearly every picture triggered my curiosity. But one was especially interesting because it showed an attractive YL posed with a classic AM station from the mid-50s, which I consider to be the "golden age" of ham radio. The photo was taken a few years before the space age really began to accelerate the interest in science and technology, and it was still the era when girls weren't as often encouraged to get involved in technical hobbies, so I became curious and checked some vintage callbooks. To my surprise, I found that WØWDC was still licensed and living in Cedar Rapids, IA, where I have friends who might know her, which proved to be the case.
I made contact with Bev and her husband Van WØVAN to ask their permission to submit this photo to Electric Radio, along with a few comments about Bev's long-time involvement in ham radio. Since they wrote the story better than I ever could have, I'll just pass it along verbatim. Congratulations to Bev, WØWDC, on 65 years in ham radio!
---
"Older hams will recognize the Heathkit AT-1 transmitter and VF-1 VFO. The receiver is a Hallicrafters SX-43. The big box contains a homebrew AM transmitter with an amplifier with a single 813 final.
When the QSL card was mailed in 1956, Bev was 17 years old and a freshman at Parson's College in Fairfield, Iowa. Bev was first licensed in 1954 as WNØWDC. The new photo cards were a big improvement over the originals where she painted out the novice N with pink nail polish after she passed her general class license.
Even in school, she was thinking ahead. She looked around and soon realized that unlike the football players, the smart boys were in the radio club.
Her first husband was Frank, WØCPC. (He passed in 1982.) Her second husband, Van, WØVAN, first licensed in 1962, keeps the antennas up and the amplifier warm.
Now, at 80 years old, Bev is still active with radio, but she balks at climbing the tower. She checks into the 75-meter (noon) traffic net often enough that the net control stations still remember her voice and name. She passes out a few contacts/points during the ARRL/UHF/VHF contests. Together with Van, she visits five or six ham fests a year in Iowa and Illinois. And, she is currently the president of NY2SF, the Lincoln Highway Amateur Radio Group. (NY2SF, "New York to San Francisco," – the terminals of the great historic highway.
Bev delights to point out to newbies that she had to hand-draw schematic diagrams of oscillators for her general test. She passed 13 words per minute in front of an FCC examiner at a federal building in Des Moines. As a new general class operator, she operated 11 meters CW before it was taken from us amateurs to form the citizen's band. She claims that DX was great on 27 mc (in case you've forgotten, that's now MHz.) Her fascination with high power amplifiers goes way back. She is always striving for a signal that to the listening operator sounds like someone "slapping a big fish on the side of the barn," when the D-104 is squeezed.
Yes, when we married in 1990, we did go to the Dayton, Ohio hamfest on our honeymoon. After years of teaching at private colleges, Bev finished her career and retired at age 75 from the Cedar Rapids, Iowa Police Department Detective Bureau."