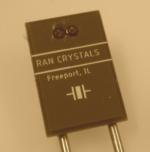 DIY version by "RAN Crystals"
Posted By: Robert Nickels (ranickels)
Crystal sockets were popular for pluging in ... crystals, of all things! But they were also used for other purposes, such as the antenna relay connection on some EF Johnson transmitters. If you want to connect a VFO to a transmitter with just a crystal socket, for example, you're going to have to either carve up an old FT-243 type crystal or if you want to outboard a synthesizer to a Drake radio or use that Johnson antenna relay connection, that takes the smaller pin version, like the HC-6/U crystal used.
I got tired of having to cobble up something so I made my own. Brass tubing and wire provides the correct fit and a small PC board hold it all together and provides a way to attach a cable, either soldered or to screw terminals.
My novice crystals came from a place that sold surplus crystals that many remember: JAN crystals. So it was only natural that my crystal plug bear the "RAN Crystals" name.