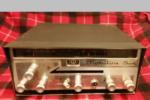 and the Globe Mobiline Six...
Posted By: Robert Nickels (ranickels)
In his book "In Touch with Leo", the success and growing backlog of CB-100 orders is what drove Leo to his banker, Lou Ross, who asked him why he didn't anticipate the number of orders and required capital. Leo responded "Lou, never on God's green earth could I have believed such an influx of orders!". More funding was needed than the bank could provide so Ross set out to find a suitable partner, which led him to General Cement division of Textron in Rockford IL. They saw the potential and acquired Globe Electronics in Sept. 1959 along with other underfunded electronics companies, which took Textron stock from $7.50 a share to over $20. Leo was retained as President and Roger Mace (of Heathkit fame) became Director of Engineering. The book claims that at this time "Globe had well over half of the CB business in the country". But Textron's manufacturing engineers convinced their management that even after expanding the Council Bluffs facility by 13,000 sq. ft. (which they had a 10 year lease on), it still made more sense to move operations to their 300,000 sq. ft. facility in Rockford, and that move occurred in 1961. They tried to get Leo to move and continue running things - even offering to buy WRL as well, but he refused and ended up selling his Textron stock back to the parent company after he resigned.

Once in Rockford, things did not go well, with quality problems and despite having hired and moved 48 key Globe employees from Council Bluffs to Rockford, 35 had left by the end of the first year. Textron tried again to hire Leo and even offered to sell Globe back to him, but Leo felt they'd tarnished the reputation of his former company and declined. Globe Electronics folded soon thereafter. The biggest upside for Leo is that this terminated the 5 year non-compete agreement he'd signed, which enabled him to form Galaxy Electronics and get on with the next phase of his entrepreneurial career. Anyone who has had involvement with mergers and acquisitions will agree that this scenario is unfortunately the rule rather than the exception.
---

I summarize this part of the book here because I know it's hard to find and suspect many are interested in this fascinating piece of ham radio history. I live about 45 miles from Rockford and when I first moved here in the 80s attended a ham club auction there where I bought a Globe Mobiline 6 that had been assembled by an employee, and which worked but was lacking a few decorative elements that must have been hard to find. I also have a semi-assembled chassis that came off the production line when it was finally shut down and later bouth a 2nd complete unit that appears to be complete. The Mobiline 6 is an impressive design with built-in VFO, 2E26 final, and a low-profile stylish cabinet that is similar to the CB-100. The electrical designs were solid and there's no doubt that Globe hired an industrial designer to make these products look good as well, evidently they just lacked the electronics manufacturing expertise needed to make them!
The Mobiline Six is featured on a fold-out page in the 1961 WRL catalog (wonder how many didn't even know it was tucked in there?). It provided a sensitive receiver and a transmitter with 20 watts input and a built-in VFO. A crystal could be installed in an opening on the bottom which actuated a switch that disabled the VFO. The rig could operate from either 115 volt AC or 12 or 6 volts DC. It was no lightweight weighing in at 30 pounds and not cheap at $229.95. Still this was during an active part of the sunspot cycle and the Mobiline Six would have garnered some fraction of six meter AM rig sales if Globe had been able to manufacture it long enough to stay in the amateur radio business.