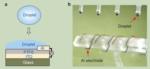 A drop of water lights up 100 small LED bulbs
A team of engineers has figured out how to take a single drop of rain and use it to generate a powerful flash of electricity. The City University of Hong Kong researchers behind the device, which they're calling a droplet-based electricity generator (DEG), say that a single rain droplet can briefly generate 140 volts. Their findings were published in the latest issue of the highly prestigious scientific journal Nature under the title "A droplet-based electricity generator with high instantaneous power density".
A conventional droplet energy generator based on the triboelectric effect can generate electricity induced by contact electrification and electrostatic induction when a droplet hits a surface. However, the amount of charge generated on the surface is limited by the interfacial effect, and as a result, the energy conversion efficiency is quite low.
In order to improve the conversion efficiency, the research team has spent two years developing the DEG. Its instantaneous power density can reach up to 50.1 W/m2­, thousands of times higher than similar devices without the use of the FET-like design. The energy conversion efficiency is also markedly higher.
This groundbreaking achievement can help to advance scientific research into water energy generation and tackle the energy crisis.
Professor Wang pointed out that there are two crucial factors for the invention. First, the team found that the continuous droplets impinging on PTFE, an electret material with a quasi-permanent electric charge, provides a new route for the accumulation and storage of high-density surface charges. They found that when water droplets continuously hit the surface of PTFE, the surface charge generated will accumulate and gradually reach saturation. This new discovery has helped to overcome the bottleneck of the low-charge density encountered in previous work.
VIDEO of DIYconcept experiment