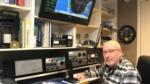 A former Honeywell work colleague and local ham friend was recently featured in a front-page story in the Freeport Journal Standard
John does a nice job of explaining the relevance of Ham Radio in the 21st century:
"Think about that little cell phone you carry around which is only a radio," he said. "That all happened in the last 100 years. That's one lifespan for many people."
---
He goes on to describe the breadth of the hobby:
"Explaining ham radio is tough because it's so broad, today more than ever ... lots of computer-based digital modes, modes of radio that are also linked to the internet, satellite communications," Mitchell said.
Amateur radio is many things to many people, Mitchell said. It's a hobby, a sport and a service.
"I am a hobbyist," Mitchell said. "I just love radio and am fascinated by it. Others compete for awards and accreditation, while others involve themselves in community service, emergency communications services, disaster relief and coordination."
---
While not a boatanchor collector, John loves his TR-4 that dates back to his early ham career and which has been carefully restored. He's since added the L4-B and this past summer, a tower and beam that allows him to better snag the DX in retirement.