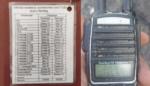 Baofung UV-82HP - unencrypted
The Russian military has used civilian mobile phones and radios for their communications, including Chinese-made civilian handheld radio, during the ongoing Kremlin's invasion of Ukraine.
According to Defence-Blog.com, the Russian military is using the BaoFeng UV-82HP radios for communication within the frontline units currently stationed in Ukraine.
The Ukrainian military manages to seize Russian combat vehicles and equipment, among which were frequent Chinese radio stations and documents with call signs and radio frequencies for communication in a highly congested and dynamic operating environment.
Pretty amazing...