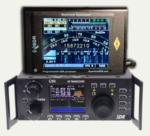 As one who has been playing with small inexpensive SDRs since the days of the Softrock, I've been amazed by how well the simple yet very effective Quadrature Sampling Detector aka "Tayloe Detector" (named after it's inventor Dan Tayloe) actually works. Using calibrated equipment I've measured the Minimum Detectable Signal (MDS) at -122dBm using the same 3dB in 500 Hz bandwidth method that Rob Sherwood, ARRL, and other test labs use. That translates to .17uV RMS, which is to say that the QSD will hear any signal that is above the noise floor unless you get to the upper range of the HF spectrum or are in a very quiet rural location. In short, the QSD is often a better front-end than the DSP in the radios it is usually connected to.

I've verified this by feeding the QSD output from my uSDX into a PC via a good soundcard and running SDR# or HDSDR on a PC. There are several reason for this: the ADCs in the soundcard provide better resolution and lower noise, DSP calculations can be done using more precise floating point math, filters can be MUCH better, and most importantly, a Low-IF architecture can be implemented. The uSDX and most other simple SDRs use a zero-IF or direct conversion method and anyone who has built a direct conversion receiver knows that there is always noise and unwanted signal components such as LO leakage and 1/f noise at the "center spike" or Zero Hz. While this can be minimized, a side-by-side comparison of zero-IF (uSDX) and low-IF on the PC with the same signals shows a significant improvement with the Low-IF. Typically this is done by offsetting the frequency from 10 to 20 kHz for demodulation at a spot that is clear of all the spectral debris at the center (basically creating a superhet receiver). However this requires significant computational resources that are impossible on the uSDX. The difference is especially noticeable when listening to AM where the zero Hz noise mixes with the desired signal to produce unwanted and annoying heterodyne tones in the audio, or when a spectrum/waterfall display is desired. (The Xiegu G90 is a good example of a small SDR that implements a Low-IF architecture to provide a clean display and noise-free demodulation). To be useful as a tuning and band visualization aid, a spectrum/waterfall display also needs to provide sufficient resolution and a color display is a huge benefit.

Of course having to have a bulky, power-hungry PC or laptop connected to provide these functions isn't quite compatible with how many users wish to use their uSDX and similar radios. So I'm excited when I recently learned of a new product, the Quantum Spectrum DSP accessory, that provides many of the same benefits in a small portable hand-held sized package: https://quantumsdr.com/

While the initial offering does not include an audio capability, the company has hinted that this may be possible if demand warrants (which it no doubt will!). But the Quantum Spectrum add-on takes IQ output from any receiver or transceiver that can provide it and generates a spectrum and waterfall display on it's 320x240 pixel color touchscreen display. It also can control the radio via a serial CAT interface, so the radio can be tuned by touch! I've linked a short demo video and the company's website on my website here: https://tinyurl.com/mpur4bk7

I have no connection with the manufacturer but there is a link on their site to "store" where at present a 1GBP ($1.14USD) deposit can be made to be part of a group buy that is planned for late April delivery. Since I'm always missing out on group buys I wanted to pass this along for anyone who might be interested.

With a simple plug-in connection the Quantum Spectrum display looks to be a much more natural companion for a small portable SDR radio - I'll know for sure after the group buy is completed and I get hands on one. And if the promise of adding audio output is met in the future, it will be capable of bringing out most of the capability the QSD has to offer, and at a fraction of the price of other panadaptor/display units on the market.