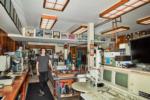 the crystal set of the 21st century?
In August, chipmaker Intel evealed new details about its plan to build a "mega-fab" on US soil, a $100 billion factory where 10,000 workers will make a new generation of powerful processors studded with billions of transistors. The same month, 22-year-old Sam Zeloof announced his own semiconductor milestone. It was achieved alone in his family's New Jersey garage, about 30 miles from where the first transistor was made at Bell Labs in 1947.
With a collection of salvaged and homemade equipment, Zeloof produced a chip with 1,200 transistors. He had sliced up wafers of silicon, patterned them with microscopic designs using ultraviolet light, and dunked them in acid by hand, documenting the process on YouTube and his blog. "Maybe it's overconfidence, but I have a mentality that another human figured it out, so I can, too, even if maybe it takes me longer," he says.
Read the full story which originally appeared in WIRED magazine HERE