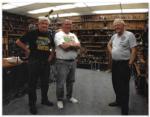 The Microphone Museum, Milwaukee WI
Bob Paquette's microphone museum in Milwaukee was known internationally and he will be missed. This photo shows only a part of his vast collection, in a 2001 visit by Harry N9CQX and Jim K9RJ (SK). Here is the announcement from the Wisconsin Antique Radio Club:
Subject: Bob Paquette Sr. 1929-2018
Friends of WARCI,

It is with great sadness that we announce the passing of Bob Paquette, Sr.

Bob was a member of AWA and a WARCI member since 1996. He was the author of the book The History & Evolution of the Microphone, founder of Select Sound Service, and curator of Bob Paquette's Microphone Museum in Milwaukee.