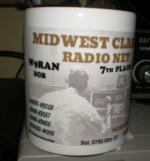 Midwest Classic Radio Net
The Midwest Classic Radio Net has been conducted on 3885 kHz AM since 1987 as a salute to classic AM rigs and operation. The net remains one of the most popular AM nets in the country and sometimes last for well over an hour.
Harry N9CQX took over the net after long-time NCS WA9ZTY became a silent key and instituted record-keeping to know how many stations participated. Before long annual participation recognition certificates were issued to the top 10 stations who checked in most often.
This year, covid-19 has kept many of us indoors when we might otherwise be at hamfests or elsewhere so the competiton was more intense than usual! But by checking into the MCRN 46 out of 52 times in 2020, W9RAN came in at 7th place, and this year, the top 20 participants received attractive personalized mugs!
Thank you Harry, for the mug and for the great job you and the other NCS stations do in making the MCRN fun for all the rest of us!