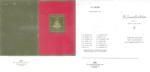 Yes, a holiday greeting card from the original KPH, Port Reyes CA. I don't have an exact date but I would guess late 50s or early 60s because it came from the estate of Roger Kaney (SK) who was W9AF when I knew him, but had been W9ZRU previously. Roger was a retired marine radio operator when I met him in the late 80s, and even then would "stand watch" at night with receivers monitoring the marine frequencies which were still active then. He showed me an article that predicted the end of shipboard Morse operation with great sadness, which of course came to pass along with the demise of the shore stations. KPH unlike most not only survived in a new form but has prospered since and is still kept on the air thanks to the dedicated volunteers of the Maritime Radio Historical Association who have devoted uncounted hours to that end since 1999. CLICK HERE to read more about the MRHA.
Before Roger's shipboard career began he spent a short time as an operator at KPH and was there over at least one Christmas, and got his "sine" included in the holiday card. Pretty cool!
Click the image to see the card in more detail.