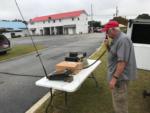 Intelligent risk-management by attendees
Sanity! Individual responsibility!
From the BRARS webpage:
Welcome to the Blue Ridge Amateur Radio Society (BRARS) Hamfest
By purchasing a Hamfest ticket, You are acknowledging that an inherent risk of exposure to COVID-19 exists in any public place where people are present, "While attending the BRARS Hamfest you and any guests that you may bring voluntarily assume all risks related to exposure to COVID-19."
Individuals who currently or within the past fourteen (14) days have experienced any symptoms associated with COVID-19. (Symptoms would include but not be limited to fever, cough, shortness of breath, loss of sense of taste or smell, fatigue, nausea and diarrhea) have traveled internationally within the past 14 days or have been exposed to a confirmed or suspected case of COVID-19 and have NOT been cleared by a licensed medical provider should not attend.
Personal protection equipment requirements will follow the fair ground requirements at the time of the event.
The Blue Ridge Amateur Radio Society has assisted amateur radio operators in the Upstate of South Carolina since 1959.
---
Pictured above: Kim W4OSS checking into the Midwest Military Radio Collectors Group Net on 7296 USB (every Sat. at 0900 Central). Photo courtesy of KN4R.